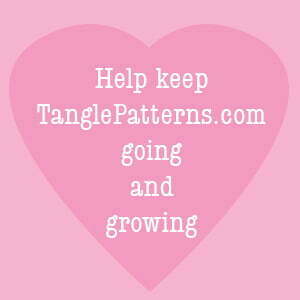 Hello my tangling friends,
Each year at this time it's necessary for me to ask every user of TanglePatterns for help to keep this unique Zentangle® resource going and growing.
It's up to you. If you are relatively new to the site, you might not have given much thought to the enormous costs involved in keeping this very busy site running smoothly and securely. Or the tremendous amount of time and energy needed to run and maintain the site as well as provide fresh inspiration for you on a regular basis. Many tanglers assume TanglePatterns is funded by Zentangle but I am not financially supported by Zentangle in any way. TanglePatterns is just me, with your help.
"There's so much 'free' on the Internet that it is easy to forget that sometimes there is a hidden cost which we know nothing about, and also we are quite unaware of the amount of work it must take, to maintain such a site as this. So thank you very much for all your hard work!" ~ Shoshi
If you've never given to support TanglePatterns before, right now is the time for you to chip in. This annual November fundraising campaign helps pay the site's many bills (dedicated server, software licenses and many service providers), and ensures I can keep great new content coming your way.
"Keep up the good work. Really appreciated. Every time I see an email from you it makes me smile in anticipation of something wonderful and interesting and fun and often challenging too. THANK YOU." ~ Sue
Every gift matters, no matter how big or small.
"Linda, Your dedication to this website is a blessing to anyone who supports the arts. I can't draw an accurate stick figure but I can tangle, thanks to your detailed, interesting, educational website. Your website not only teaches Zentangle, but history, geography, and anthropology. The worldwide audience of Zentangle has opened up the world to me. I look forward to being introduced to something new in every email you send. While I will offer my financial support, I can never truly repay you for all you have given me!" ~ ZaBeth
I humbly ask that if you benefit creatively from TanglePatterns, support my work and ensure the site continues to be available to the worldwide Zentangle community.
"I don't usually donate to such things, but this is such a wonderful resource and I use it so often I cannot, in good conscience, not." ~ Suzanne
To the faithful fans who have supported the site in the past, thank you so much for caring about TanglePatterns and helping it grow.
To those who haven't yet supported the site, thank you in advance for stepping up now and showing that you appreciate this Zentangle resource enough to "help keep the lights on" (~ LindyLu) for another year.
"I love all the timeless advice, tips and patterns. A literal treasure trove of information found no where else I figure that if I bought a book for $25-30 it would be a minimal amount to what is found here. So people, step up and think of it as in investment in yourself as a artist and an artistic gesture to keep beautiful things coming for all of us. Thanks Linda for your time, energy, interest, and talented gifts." ~ Lorraine
You do not have to open an account to use PayPal: after you click the button above and update your cart, scroll down the PayPal page and look for the "Don't have a PayPal account" section. All credit and debit cards are accepted.
If you prefer to mail a contribution, the SUPPORT TANGLEPATTERNS page on the top menu bar has my mailing address. It also contains the PayPal button so you can support the site any time you can.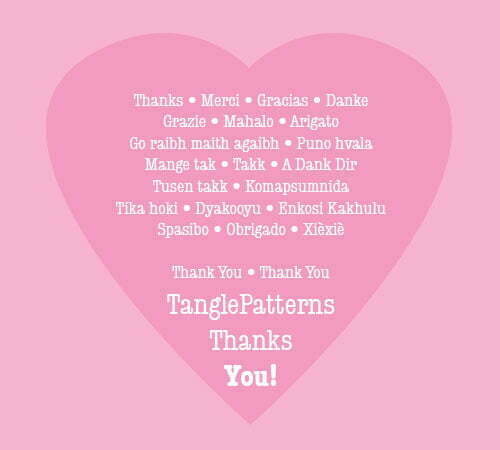 With heartfelt gratitude and love and all good wishes,
Linda
Founder (and the only "staff") of TanglePatterns.com
FYI – The new 2017 Edition of my TanglePatterns.com TANGLE GUIDE will be available in the Store by the second week of January, look for an announcement when it's ready. Your Guide purchase is another great way to support the site and in return get a fabulous tool for tangle reference and for using the site.