Whoa, the Valentine's tangles are showing up early this year. I do appreciate the advance preparation which is very helpful, and, well, I guess it will be here before we know it … (and the chocolate season continues).
2-S is a continuous line tangle from Taiwan CZT Mina (Ping-Min) Hsiao who already has several intriguing tangles on the site including Dicso (another continuous line tangle, and NOT spelled Disco) which makes use of the five elemental strokes of a tangle.
Mina's inspiration came from this photo she took while traveling. It's a little fuzzy but we get the gist and it looks like a decorative metal grill of some sort.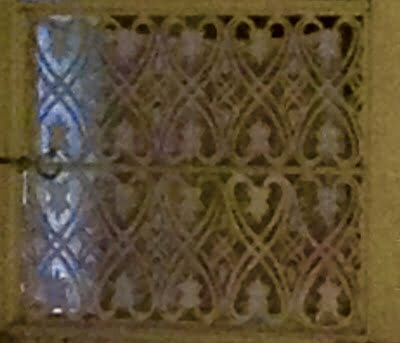 As you may know, all the heart-related tangles on the site are tagged with the word hearts so you can easily locate them all at once. Again, the linked tags are found in the date bar further down the page and in the left sidebar under TANGLES BY TYPE.
I'm sure 2-S is a very easy tangle to draw, after all it's just two S's. A regular one, and a "reverse" one. But I found I needed to really focus on what I was doing with this one, getting the bottom of the S offset enough from the top part for it all to work out right (visualize a vertical line up the middle in Step 1). And I also bypassed the continuous line and added Steps 3 and 4's strokes individually. [Confession is good for the soul.] But by all means, have a go!
Mina illustrates the step-by-step instructions for drawing 2-S here and demonstrates it in a lovely monotangle Zentangle®.
Mina writes that with Steps 1 and 2, you create a mirror image with the 2 S's. In Steps 3 and 4, the strokes start and end to match the strokes of Steps 1 and 2 with an aura in the middle  area.
Mina sent along these alternate methods of drawing Steps 3 and 4 showing that you can make those strokes cross in one of four places — either side of where the S's meet in the middle (1 & 3), in the top heart (2) , or in the bottom heart(4). And when you use methods 2 or 4 below, you get hearts of different sizes on the top and bottom.
Here's another lovely monotangle featuring 2-S with a few slightly different embellishments from the example above. Pretty!
Check out the tag minah for more of Mina's tangles on TanglePatterns.com.
.oOo.
Guidelines for creating Zentangle®-inspired art and products
Thinking about creating Zentangle-related products for sale? Please see these pages:
You'll find all sorts of great tips and useful information by visiting the TUTORIALS tab on the pink alphabetic tangle index menu bar.
It's all there!
.oOo.
.oOo.

Enhance your Zentangle experience while supporting TanglePatterns:

CURRENT EDITION!

TanglePatterns.com TANGLE GUIDE, 2023 Edition

The 12th Edition of the TanglePatterns.com TANGLE GUIDE is an instant-download 103-page (50 MB) interactive digital eBook/PDF containing almost 1,900 tangles on the site from May 2010 through December 31, 2022. It's a great resource and a must-have digital tool for using the site. Visit the STORE > E-BOOKS page and help keep TanglePatterns.com online by getting your copy now!

"Linda, Thank you! I was relying on too few and getting stuck after 3 years of daily working with Zentangle. This has inspired me to 'begin again' with renewed excitement." ~ Barbara R.

See the BOOK REVIEWS page for more details on its features and view a sample page. Note: this is a digital product you download immediately when you place your order, nothing will be physically mailed to you.
GIFT ORDERS FOR ANOTHER PERSON: To give the TANGLE GUIDE as a gift, visit this page to place your gift order.
If you're new to Zentangle® and tangling, my TanglePatterns.com BEGINNER'S GUIDE TO ZENTANGLE is just what you need to get started. Also available en Français and en Español.

---

This is the only Zentangle book you'll ever need: the fabulous Zentangle PRIMER Vol 1. It's your CZT-in-a-book by the founders of Zentangle®. Visit the STORE tab on the top menu bar or click on the image. For more about the content and to read the rave reviews, visit the BOOK REVIEWS tab.
NEW! Now available in KINDLE format for $9.99. Spanish Edition here. Japanese Edition here.
"Absolutely the best Zentangle Book yet! As an accomplished artist I used to think I did not need instruction on this art form. How wrong I was! My tangling improved by leaps and bounds after reading this book. If you think you have Zentangle down then you need this book more than ever!" ~ Kris H

---

.oOo.