This cool tangle, Boze, comes to us from tangler Jan Steinle who hails from the beautiful city of Pittsburgh PA. Boze is Jan's first tangle pattern on the site.
Before our careers brought us to Florida over 30 years ago, Robert and I were fortunate enough to live in Pittsburgh for four wonderful years and loved every minute of it. Pittsburgh has long been a leader in a diverse range of fields including engineering, science, technology, environmental design, culture and the arts. Well worth a visit! And as I've mentioned elsewhere, it's not far from Fallingwater, the breathtaking residence in rural Pennsylvania designed by the renowned American architect Frank Lloyd Wright. When we make our annual trek north to Ontario to visit family, we pass through Pittsburgh and pay homage. 🙂
In this introduction Jan tells us how Boze came about and that she's headed to Providence RI in April to become a Certified Zentangle Teacher.
I started my journey as an artist about 40 years ago when I attended Art School in Pittsburgh, PA, where I've lived almost all my life. (Married my high school sweetheart in 1978.) For several years after graduation, I worked in art-related jobs I loved. Then I moved on to other things to earn more money.  About 15 years later, I tried scrapbooking for awhile (loved that too), about 10 years after that I co-owned a custom picture framing shop (wonderful creative job launched at the beginning of the recession…), and then in recent years I took a couple of painting classes and did very well.
This past summer was I introduced to Zentangle® through my sister Carole, and immediately became enthralled (more like obsessed) … I haven't stopped tangling since, and I'm proud, once again, to call myself an artist. Can't wait to go to CZT Training this April!
My new (first ever) pattern, Boze, came to me as I was drifting off to sleep one night. I chose the name because of course there are shapes in it that look like bows, but I don't want people to get attached to that aspect of it, so I changed the spelling.
The more I played around filling in the positive and negative spaces, and the direction of the 'ties', the more options for pattern variations I came up with. I hope everyone who tries this pattern has as much fun as me!  

Boze belongs to a family of bold, high contrast tangles; Barbara Finwall's (barbaraf) fall into that category. These tangles provide a very striking look to your Zentangles. Jan shows several potential variations of Boze below and I also tried out this version, simply reversing the direction of the "ties" in the center column.
Jan illustrates the step-by-step instructions for drawing Boze here and she includes a lovely Zentangle featuring her tangle. Excellent shading!
As Jan says, trying different fills in the positive and negative spaces yields lots of variations and here are some of hers: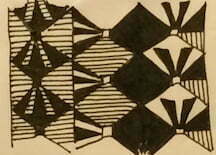 Check out the tag jans for more of Jan's tangles on TanglePatterns.com. You can also find her on flickr as janbee.steinle.
Get your free email subscription and never miss a tangle!
Sign up to get new tangle postings delivered free to your inbox by email in just 2 easy steps. Visit the ABOUT > SUBSCRIBE TO FREE TANGLEPATTERNS EMAILS page on the top menu bar for more information.
Need to change your email address for your subscription? Visit the ABOUT > HOW TO CHANGE YOUR EMAIL SUBSCRIPTION page.
.oOo.

Enhance your Zentangle experience while supporting TanglePatterns:

BRAND NEW!

TanglePatterns.com TANGLE GUIDE, 2023 Edition

The 12th Edition of the TanglePatterns.com TANGLE GUIDE is an instant-download 103-page (50 MB) interactive digital eBook/PDF containing almost 1,900 tangles on the site from May 2010 through December 31, 2022. It's a great resource and a must-have digital tool for using the site. Visit the STORE > E-BOOKS page and help keep TanglePatterns.com online by getting your copy now!

"Linda, Thank you! I was relying on too few and getting stuck after 3 years of daily working with Zentangle. This has inspired me to 'begin again' with renewed excitement." ~ Barbara R.

See the BOOK REVIEWS page for more details on its features and view a sample page. Note: this is a digital product you download immediately when you place your order, nothing will be physically mailed to you.
GIFT ORDERS FOR ANOTHER PERSON: To give the TANGLE GUIDE as a gift, visit this page to place your gift order.
If you're new to Zentangle® and tangling, my TanglePatterns.com BEGINNER'S GUIDE TO ZENTANGLE is just what you need to get started. Also available en Français and en Español.

---

This is the only Zentangle book you'll ever need: the fabulous Zentangle PRIMER Vol 1. It's your CZT-in-a-book by the founders of Zentangle®. Visit the STORE tab on the top menu bar or click on the image. For more about the content and to read the rave reviews, visit the BOOK REVIEWS tab.
NEW! Now available in KINDLE format for $9.99. Spanish Edition here. Japanese Edition here.
"Absolutely the best Zentangle Book yet! As an accomplished artist I used to think I did not need instruction on this art form. How wrong I was! My tangling improved by leaps and bounds after reading this book. If you think you have Zentangle down then you need this book more than ever!" ~ Kris H

---

.oOo.