Greetings my friends, this is the time of year when I must make a personal request for general financial support for the sustainability of TanglePatterns.com for the upcoming year.
Your purchase of TanglePatterns eBooks helps fund my work on the site and I thank you sincerely for that. Today my request is a general appeal for your help underwriting the operating expenses of running the site and for which the big annual bills come due at this time.
In addition to the costs for TanglePatterns.com's dedicated server and hosting, I pay for ongoing software updates and programming and technical services for performance enhancements that keep the site secure to use and running smoothly. As more and more people visit the site, it's a challenge to keep the server and its software resilient enough to handle the increasing load. The "free" newsletter you subscribe to is not a free service, I pay a monthly fee for it. Expenses go up each year and with the Zentangle community's help we can keep the site running reliably and the newsletter delivered to your inbox.
Our community grows daily as more and more people around the world discover the magic of Zentangle® and use this "singular" resource to enhance their art and enrich their lives. It is my honor to keep it current by devoting my time and energies to growing the site with new tangles, and new creative resources and inspiration.
You might not be aware that I run this site by myself. I have no "team". What you see on the site is just the tip of the TanglePatterns.com iceberg. Managing the day-to-day technical issues and responding to emails takes as much or more of my time and energy as adding new content to the site.
However, as I wrote last year, "I am dedicated to making this site even more interesting by researching many related subjects and integrating them into the tangles. So in addition to learning about Zentangle, together we discover many new, or old, things too. Bits of history, geography, nature, culture, weather, sport, food, wine, and even (gasp) art! Don't think I've tackled science yet, hmmm …"
My mission continues but without your financial assistance I would not be able to offer TanglePatterns as a freely available resource.
If you consider the cost of taking a workshop or even a magazine subscription, I think you'll agree that the steady week-in, week-out value you receive from TanglePatterns in new tangles, strings, helpful tutorials and inspiring creative resources is well worth supporting.
So if you are able to help, please use this PayPal button to make a contribution for the upcoming year. Regardless of the amount, it all helps and is sincerely appreciated. The SUPPORT TANGLEPATTERNS page has my mailing address if you prefer to mail a check or money order and it also explains in a little more detail just what's involved in running the site.
You do not have to open an account to use PayPal: after you click the button above and update your cart, scroll down the PayPal page and look for the "Don't have a PayPal account" section. All credit and debit cards are accepted.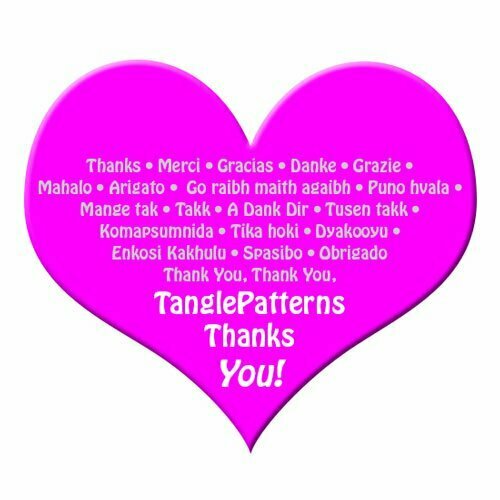 From the bottom of my heart, thanks so much for your support. And for your time!
I'll be back tomorrow with another new tangle …
BTW – As you may have guessed, my new TanglePatterns.com TANGLE GUIDE 2015 Edition will be coming out in the early days of January. I'll let you know when it's available!
.oOo.

Enhance your Zentangle experience while supporting TanglePatterns:

CURRENT EDITION!

TanglePatterns.com TANGLE GUIDE, 2023 Edition

The 12th Edition of the TanglePatterns.com TANGLE GUIDE is an instant-download 103-page (50 MB) interactive digital eBook/PDF containing almost 1,900 tangles on the site from May 2010 through December 31, 2022. It's a great resource and a must-have digital tool for using the site. Visit the STORE > E-BOOKS page and help keep TanglePatterns.com online by getting your copy now!

"Linda, Thank you! I was relying on too few and getting stuck after 3 years of daily working with Zentangle. This has inspired me to 'begin again' with renewed excitement." ~ Barbara R.

See the BOOK REVIEWS page for more details on its features and view a sample page. Note: this is a digital product you download immediately when you place your order, nothing will be physically mailed to you.
GIFT ORDERS FOR ANOTHER PERSON: To give the TANGLE GUIDE as a gift, visit this page to place your gift order.
If you're new to Zentangle® and tangling, my TanglePatterns.com BEGINNER'S GUIDE TO ZENTANGLE is just what you need to get started. Also available en Français and en Español.

---

This is the only Zentangle book you'll ever need: the fabulous Zentangle PRIMER Vol 1. It's your CZT-in-a-book by the founders of Zentangle®. Visit the STORE tab on the top menu bar or click on the image. For more about the content and to read the rave reviews, visit the BOOK REVIEWS tab.
NEW! Now available in KINDLE format for $9.99. Spanish Edition here. Japanese Edition here.
"Absolutely the best Zentangle Book yet! As an accomplished artist I used to think I did not need instruction on this art form. How wrong I was! My tangling improved by leaps and bounds after reading this book. If you think you have Zentangle down then you need this book more than ever!" ~ Kris H

---

.oOo.