Today is one for digressions, so I hope you have a cup of tea and a few minutes for this one. 🙂
The beautiful Alaura tangle comes to us from Taiwan CZT Diane Tai. Earlier this year Diane shared her Qian-Long and Lantern-Pho tangles with us.
I think Alaura will keep you tangling for quite a while. It sure has me hooked!
Diane writes, "I was inspired to discover a new pattern this morning which turns out to look like the spiral in this aloe plant."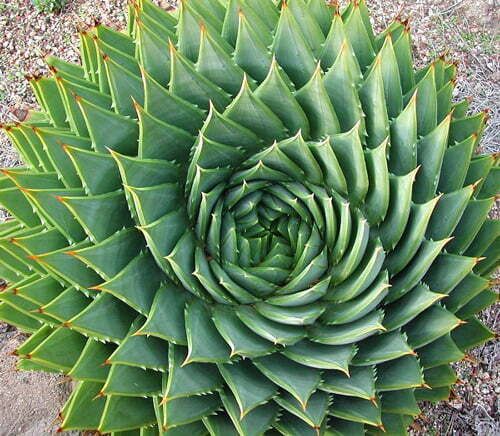 Diane's picture reminded me of Rick's fascination with Fibonacci spirals and numbers and this post from August 26, 2012, on the Zentangle® blog. As CZT Michele Beauchamp wrote in the comments there, "there is so much to learn about the intricate mix of Mother Nature, art and mathematics."
That post by Rick is where he explains what "drawn as a tangle" means, and I'm quoting that entire section here because it is central to the Zentangle Method and determining what makes a tangle.
"Drawn as a tangle" means that you repeat a series of elemental strokes in a certain structured way so you inevitably end up with a particular pattern without needing to know what the pattern you are creating is supposed to look like.

Usually the number of elemental strokes needed are 3 or less. Often, you only need one or two. By "elemental strokes" we mean a dot, a straight(-ish) line, a curve (like a parenthesis), a reverse curve (like an "S"), and an orb or circle.

It also has to be done without any underlying pencil structure or preplanned grid.
As Maria said, "A pattern is not always a tangle."
Moving right along …
I did not know that Aloe is "a genus containing over 500 species of flowering succulent plants." I'm familiar with the Aloe Vera plant and have used its gel faithfully as a moisturizer and to magically treat minor cuts and burns for many years. But the Aloe in Diane's photo is simply stunning.
"Most Aloe species have a rosette of large, thick, fleshy leaves. Aloe flowers are tubular, frequently yellow, orange, pink, or red, and are borne, densely clustered and pendant, at the apex of simple or branched, leafless stems. Many species of Aloe appear to be stemless, with the rosette growing directly at ground level; other varieties may have a branched or unbranched stem from which the fleshy leaves spring. They vary in color from grey to bright-green and are sometimes striped or mottled. Some aloes native to South Africa are tree-like (arborescent)." – Wikipedia "In botany, a rosette is a circular arrangement of leaves, with all the leaves at a similar height."
Diane explains how she developed Alaura, and how she named it:
"Like Rick dedicated the pattern Assunta to Maria and Maria dedicated Rixty to Rick, I was greatly inspired to discover a pattern for my mother (Laura Liu, CZT#4) as well. I was writing out her initials L & L repeatedly connecting to one another while rotating the paper, and to my surprise a beautiful spiral pattern was formed. I'd therefore like to dedicate this pattern to my mother who introduced me to Zentangle and a million other great things!
I have named this pattern 'Alaura' (Aloe + Laura). I hope you enjoy this pattern."
I have no doubt Laura will be honored by her daughter's tangle. Here Diane shares her sketches showing how Alaura developed.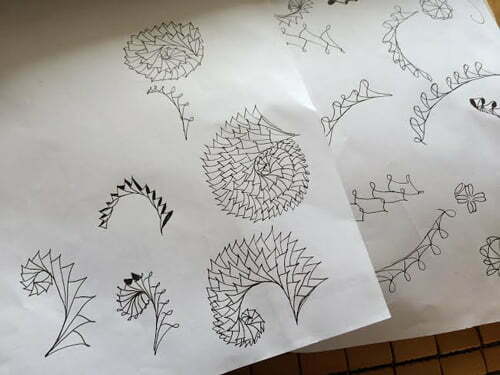 I won't kid you, I found this one a challenge to draw. I was fine up to Step 4 where the rounding is added, but then I got a little confused going outwards from there. It takes a bit of experimentation to get the rosette's spiral under control too!
Two pieces of advice I can offer: first, draw your L's with a slight ) curve to them. Second: turn, turn, turn your tile! I'm not honestly sure I've even got it right but I'm going to keep at it because it is a mesmerizing tangle to draw and I want to play with some of Diane's sketch versions. I especially like the one in the bottom center of Diane's photo above.
Still with me? Here Diane illustrates the step-by-step instructions to draw Alaura.
This is Diane's lovely monotangle Zendala with Alaura where she adds some very effective stippling to the shading. Here the L's have a bit of a pointy corner and a slight "wave" curve to the bottom of the L. Very pretty result!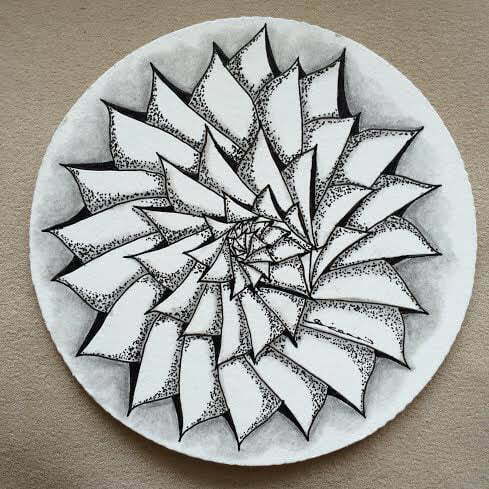 Check out the tag dianet for more of Diane's patterns on TanglePatterns.com.
Related Links
Looking for tangles by Artist or Type? For details visit the ABOUT > HOW TO FIND TANGLES BY ARTIST OR TYPE page on the top menu bar of any page on the site.
What is a Zentangle? — if you are new to the Zentangle Method, start here for the fundamentals.
Zentangle terminology — a glossary of terms used in this art form.
How to use the site — an excellent free video tutorial showing how to use the site as well as pointing out lots of useful features you might have missed.
Linda's List of Zentangle-Original Patterns — here is the complete list of original tangles (aka "official tangles") created and introduced by founders Rick Roberts and Maria Thomas, including those not published online. If you are new to the Zentangle Method I highly recommend learning a few of the published Zentangle classics first.
"A Zentangle has no up or down and is not a picture of something, so you have no worries about whether you can draw a hand, or a duck. You always succeed in creating a Zentangle." Thus patterns that are drawings of a recognizable naturalistic or actual object, figure, or scene, are not tangles. A pattern is not always a tangle — here's what makes a tangle. TIP: tangles never start with pencil planning.
For lots of great FREE tutorials on TanglePatterns, click on the TUTORIALS link in the pink alphabetic menu bar below the tangle images at the top of any page.
Strings! Have we got STRINGS! Click on the STRINGS link in the pink alphabetic menu bar below the tangle images at the top of any page for 250 different (free) Zentangle-starters. More than enough for any lifetime!
Never miss a tangle! FREE eMAIL NEWSLETTER - visit the SUBSCRIBE page on the top menu bar of any page on the site and sign up to get notices delivered free to your inbox.
.oOo.

Enhance your Zentangle experience while supporting TanglePatterns:

CURRENT EDITION!

TanglePatterns.com TANGLE GUIDE, 2023 Edition

The 12th Edition of the TanglePatterns.com TANGLE GUIDE is an instant-download 103-page (50 MB) interactive digital eBook/PDF containing almost 1,900 tangles on the site from May 2010 through December 31, 2022. It's a great resource and a must-have digital tool for using the site. Visit the STORE > E-BOOKS page and help keep TanglePatterns.com online by getting your copy now!

"Linda, Thank you! I was relying on too few and getting stuck after 3 years of daily working with Zentangle. This has inspired me to 'begin again' with renewed excitement." ~ Barbara R.

See the BOOK REVIEWS page for more details on its features and view a sample page. Note: this is a digital product you download immediately when you place your order, nothing will be physically mailed to you.
GIFT ORDERS FOR ANOTHER PERSON: To give the TANGLE GUIDE as a gift, visit this page to place your gift order.
If you're new to Zentangle® and tangling, my TanglePatterns.com BEGINNER'S GUIDE TO ZENTANGLE is just what you need to get started. Also available en Français and en Español.

---

This is the only Zentangle book you'll ever need: the fabulous Zentangle PRIMER Vol 1. It's your CZT-in-a-book by the founders of Zentangle®. Visit the STORE tab on the top menu bar or click on the image. For more about the content and to read the rave reviews, visit the BOOK REVIEWS tab.
NEW! Now available in KINDLE format for $9.99. Spanish Edition here. Japanese Edition here.
"Absolutely the best Zentangle Book yet! As an accomplished artist I used to think I did not need instruction on this art form. How wrong I was! My tangling improved by leaps and bounds after reading this book. If you think you have Zentangle down then you need this book more than ever!" ~ Kris H

---

.oOo.