Happy 4th of July to everyone who is celebrating this occasion!
(And if you aren't, Happy Summer Weekend!)

Today we have a tangle pattern from Lowell MA CZT Emily Classon, and YAH is her first on the site. When you look at the list of certified teachers on the Zentangle site, it seems everyone in the entire state of Massachusetts is a CZT! But I digress …
Emily spotted this fabric on a chair in her doctor's waiting room and sent along this photo example. She writes,
"I rarely create patterns because I'm so inspired by the others that people develop. I don't know if it was the pattern or the circumstance, but I just had to create this one.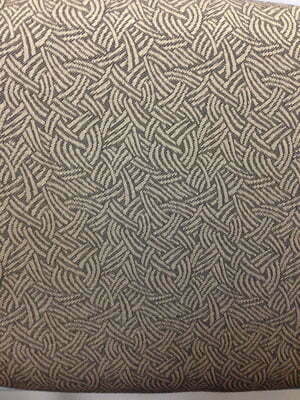 I kept staring at the pattern and figured I'd try to draw it. There is a repeating pattern in the fabric eventually, but every time I tried to figure it out, I lost my place. Then I decided to just try it without worrying about the repeat. Isn't that how we should develop our patterns anyway—without worry?
I started with randomly placed lines around my piece. Some were in twos, threes, or fours. Some were straight, and some were curved, and the length varied. Next I went in and filled in the larger gaps with additional sets of parallel lines, either straight or curved, mixing up the direction and number of lines. I tried not to worry about where the lines went and just filled them wherever the lines wanted to explore. I filled in the negative spaces with dark ink and shaded the paths where they went underneath others, Hollibaugh style.
I am calling this pattern YAH, or, You Are Here. We might not know where we are much of the time, and when we're worried about our health or that of our loved ones, we could probably use a directory to help us a bit.
Wherever you are in life—in your dreams, laughter, or worries—you are here."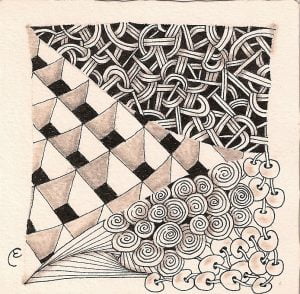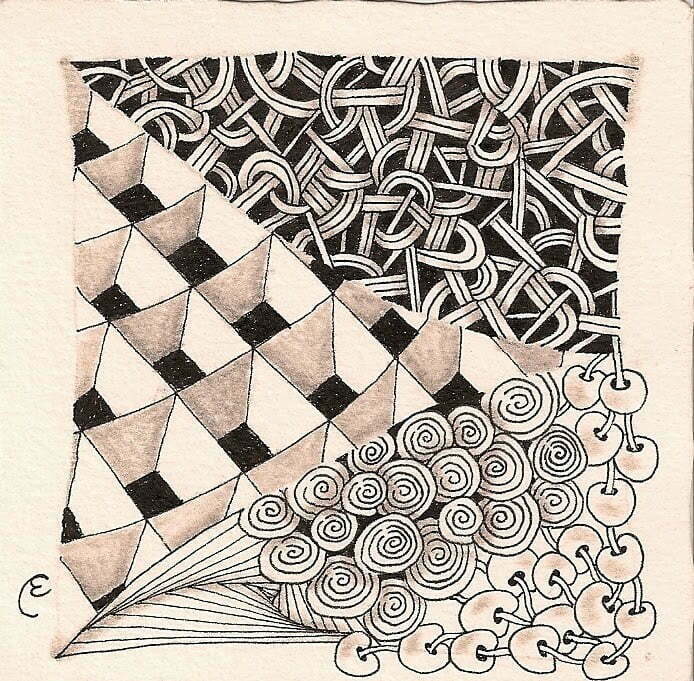 Emily offers these tips for tangling YAH:
Start with one set of lines or a bunch placed randomly.
Straight or curved
2, 3 or 4 lines
mix it up
keep it random
fill or shade negative spaces
shade "under" intersections
I drew this pattern several times following Emily's steps but found the random placement of lines around the tile not to my personal satisfaction. I felt I was stopping to analyze and make decisions too much instead of just flowing. So instead, I began at one corner of the section and built up the lines from there using curved and straight lines in different combinations of strokes. A little reminiscent of CZT Carole Ohl's Baton, you get the same result by a slightly different path. 😉
Emily illustrates the step-by-step instructions for drawing YAH  below where she demonstrates it in a dramatic monotangle tile.
Check out the tag emilyc for more of Emily's patterns on TanglePatterns.com.
And now I'm off to the French bakery to get our croissants for tomorrow's start of Le Tour de France!
.oOo.

Enhance your Zentangle experience while supporting TanglePatterns:

CURRENT EDITION!

TanglePatterns.com TANGLE GUIDE, 2023 Edition

The 12th Edition of the TanglePatterns.com TANGLE GUIDE is an instant-download 103-page (50 MB) interactive digital eBook/PDF containing almost 1,900 tangles on the site from May 2010 through December 31, 2022. It's a great resource and a must-have digital tool for using the site. Visit the STORE > E-BOOKS page and help keep TanglePatterns.com online by getting your copy now!

"Linda, Thank you! I was relying on too few and getting stuck after 3 years of daily working with Zentangle. This has inspired me to 'begin again' with renewed excitement." ~ Barbara R.

See the BOOK REVIEWS page for more details on its features and view a sample page. Note: this is a digital product you download immediately when you place your order, nothing will be physically mailed to you.
GIFT ORDERS FOR ANOTHER PERSON: To give the TANGLE GUIDE as a gift, visit this page to place your gift order.
If you're new to Zentangle® and tangling, my TanglePatterns.com BEGINNER'S GUIDE TO ZENTANGLE is just what you need to get started. Also available en Français and en Español.

---

This is the only Zentangle book you'll ever need: the fabulous Zentangle PRIMER Vol 1. It's your CZT-in-a-book by the founders of Zentangle®. Visit the STORE tab on the top menu bar or click on the image. For more about the content and to read the rave reviews, visit the BOOK REVIEWS tab.
NEW! Now available in KINDLE format for $9.99. Spanish Edition here. Japanese Edition here.
"Absolutely the best Zentangle Book yet! As an accomplished artist I used to think I did not need instruction on this art form. How wrong I was! My tangling improved by leaps and bounds after reading this book. If you think you have Zentangle down then you need this book more than ever!" ~ Kris H

---

.oOo.