As I'm sure you know by now, yesterday Zentangle® co-founders Rick Roberts and Maria Thomas celebrated 10 years of teaching and sharing this beautiful art form with the world.
As Rick wrote on their blog while announcing their milestone, "We taught our first public Zentangle class at the annual meeting of the International Association of Master Penmen, Engrossers and Teachers of Handwriting (IAMPETH) in Providence, RI, July 17, 2004. " [I had to look up engrossers too 😉 ]
All week I pondered what to do that would be special until I realized it's their anniversary to announce and celebrate. So today I simply want to pass along our heartfelt congratulations and our gratitude in abundance to Rick and Maria for this wonderful gift we all share through your grace.
Thank you for all the happiness you have brought to us, and for all of the lives you've blessed for the better.
Happy 10th, Rick and Maria and all the lovely folks at Zentangle HQ. We look forward to sharing this amazing journey with you for many more wonderful and inspirational years.
 * * *

Xplode is a cool new tangle pattern from tangler Margaret McKerihan of Perth, in Western Australia, and it's her first on the site. It's also sort of a celebratory tangle and appropriate for the occasion, don't you think?
Xplode is a relative of Jennifer Hohensteiner's Lichen and Theresa Glover's Trumpits, both similar "minimalist" tangles.
Margaret has provided steps for the basic Xplode and a very pretty aura version of her tangle and honestly I'm not sure which one I prefer, they're both very striking. For my example I've used the straight-up version with a very light touch of shading. As Margaret points out, you can top the lines with any shape.
Xplode can grow organically in any shaped section of your Zentangle® — note how Margaret stretches it out in her first Zentangle example below — and both versions offer endless fun in their potential variations.
Margaret introduces herself:
"Since discovering Zentangle in March 2013 I've become an avid tangler. I connected with CZT Michele Beauchamp for my initial supply purchases, and when I saw her Zentangles… my love of the art really took off. I love the art just for my own sake, I love the practice of doing it as well as seeing my results, but then to enjoy the beauty of the work of other truly gifted tanglers … well, where is there NOT joy in this art? I have a soft spot for Zendalas and a soft spot for metallic pens and black paper … there is so much more for me to explore in this art and I continue to wonder just what the next tile will bring.
I'm a writer by profession and a homeschooling mum of two kids and two cats. I love art journalling and knitting and all sorts of other things, but to be honest, they've all been pushed a little to the side since I found Zentangle."
 And describes her tangle:
"Xplode is simply a lot of straight lines emanating from a single point and topped with a right-angle triangle. It's variations are, of course, endless.
The lines can be topped with any shape, the shapes can point in one direction or many, the shapes can be filled or empty.

The beauty of the tangle is when the lines begin to go under the firstly formed inner shapes to extend further. My white-on-black monotangle with the larger inner triangles shows this well. The shapes can be all the same size, or can go progressively small to large, or large to small, or can be totally haphazard.
When I initially conceived Xplode (it was a repeating image that came to me when I slept or meditated) it was the aura variation, but I found myself gravitating to the singular version to draw, as it is simply easier and somewhat quicker to produce. Thus the aura version became a variation of the basic Xplode tangle. However, I find the aura variation offers much more variety in terms of filling (the lines, the background, the negative spaces created etc)."
Margaret illustrates the step-by-step instructions for drawing Xplode below and she features it in a beautiful Zentangle.
Here Margaret illustrates the steps for drawing the aura version of Xplode.
And here is her beautiful monotangle on black Margaret refers to above in her pattern description. Although she drew this one with white ink, I'm tempted to get out the Sakura Gelly Roll metallics and fill a few of of those cute little "flags". 🙂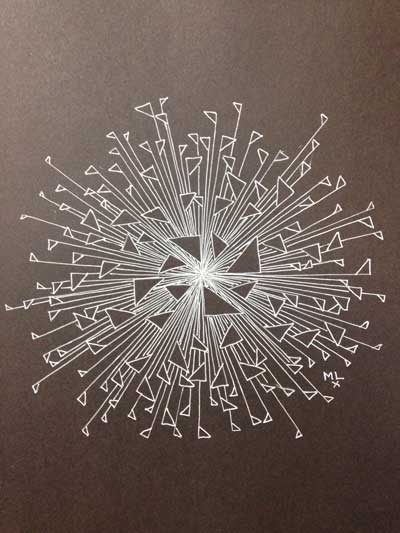 Check out the tag margaretm for more of Margaret's patterns on TanglePatterns.com.
.oOo.

Enhance your Zentangle experience while supporting TanglePatterns:

CURRENT EDITION! TanglePatterns.com TANGLE GUIDE, 2022 Edition

The 11th Edition of the TanglePatterns.com TANGLE GUIDE is an instant-download 96-page interactive digital eBook/PDF containing more than 1,700 tangles on the site from May 2010 through December 31, 2021. It's a great resource and a must-have digital tool for using the site. Visit the STORE > E-BOOKS page and help keep TanglePatterns.com online by getting your copy now!

"Linda, Thank you! I was relying on too few and getting stuck after 3 years of daily working with Zentangle. This has inspired me to 'begin again' with renewed excitement." ~ Barbara R.

See the BOOK REVIEWS page for more details on its features and view a sample page. Note: this is a digital product you download when you place your order, nothing will be physically mailed to you.
GIFT ORDERS FOR ANOTHER PERSON: To give the TANGLE GUIDE as a gift, visit this page to place your gift order.
If you're new to Zentangle® and tangling, my TanglePatterns.com BEGINNER'S GUIDE TO ZENTANGLE is just what you need to get started. Also available en Français and en Español.

---

This is the only Zentangle book you'll ever need: the fabulous Zentangle PRIMER Vol 1. It's your CZT-in-a-book by the founders of Zentangle®. Visit the STORE tab on the top menu bar or click on the image. For more about the content and to read the rave reviews, visit the BOOK REVIEWS tab.
NEW! Now available in KINDLE format for $9.99. Spanish Edition here. Japanese Edition here.
"Absolutely the best Zentangle Book yet! As an accomplished artist I used to think I did not need instruction on this art form. How wrong I was! My tangling improved by leaps and bounds after reading this book. If you think you have Zentangle down then you need this book more than ever!" ~ Kris H

---

.oOo.