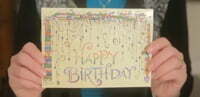 Just in time for Mother's Day!
Many of us love the Zenspirations dangle designs and patterning techniques of calligrapher and artist Joanne Fink and her earlier videos are very popular viewing. As they have been doing with all their earlier Zentangle®-related titles, Design Originals have released a workbook edition of Joanne's Zenspirations Dangle Designs book.
Today in this video produced by Sakura, Joanne demonstrates how to use her Zenspirations dangle designs to create a lovely hand made greeting card. Joanne creates a beautiful Birthday card for her Mom, but you can translate her advice and techniques to any hand made greeting card and produce lovely results.
In the video Joanne features the following tools:
Joanne also shares personal design preferences gained over her considerable years of experience to achieve a pleasing result. Be sure to take notes for any of your future design projects.
Wishing everyone a very beautiful, blessed and Happy Mother's Day!
Find the products on Amazon