A while ago Rick Roberts and Maria Thomas at Zentangle® HQ introduced brand new Renaissance Tan Zentangle Tiles to complement the original White and Black tiles, and just recently they introduced the 7-7-7 Sampler Pack containing seven of each for those of us who'd like to experiment. (You'll be challenged to pick a favorite.)
These tiles are all so wonderful to draw on with Sakura's Black or Brown 01 Micron, and the White Sakura Jelly Rolls. Or any of Sakura's Jelly Rolls for that matter. The paper has been described as luscious, and that about sums it up succinctly. If you haven't tried the REAL Zentangle tiles yet, you owe it to yourself because nothing else compares. As Rick and Maria have pointed out, you owe it to yourself and to your art to use the best quality art materials possible and Zentangle has sourced the finest.
And now exciting news! Zentangle has just added new Renaissance Tan Zendala Sets to go along with the original White and Black Zendala Sets.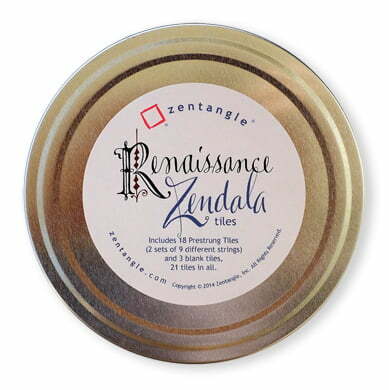 And I'm delighted to announce that new Renaissance Tan Zendala Sets and packages of Blank Zendala Refills are available for pre-order from TanglePatterns. Zentangle has made these available only through CZTs for a while, so place your order today to get yours soon!
Each Zendala Set comes in a special round tin about the size of a CD – perfect for taking your Zendalas (and a few regular tiles) with you anywhere you go!
21 tiles – 18 are beautifully pre-strung with inspiring strings: 2 sets of 9 strings, and 3 blanks
Zendala tiles are about 4 5/8″ (117mm) diameter. They are die cut with Zentangle's familiar deckle edge and use the same paper as the square white, black or tan tiles.
retail price for the WHITE Zendala Set is $24.95
retail price for the BLACK Zendala Set is $28.95
retail price for the RENAISSANCE TAN Zendala Set is $28.95
SHIPPING: USPS Priority shipping for a Zendala Set is $5.80; shipping for 2 to 4 sets is $12.35. See the ordering page links below for more details, and shipping costs for Canada and all other International destinations.