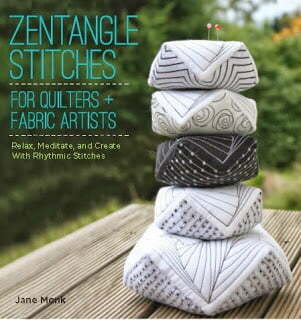 This new title will be of interest to all our tangling quilters and fabric artists as well as those of you interested in learning another relaxing Zentangle®-related skill.
By Australian CZT and award-winning machine quilter Jane Monk, this book is now available for pre-order. Publication is scheduled for next summer 2014.
The information below is from Amazon.com:
"Zentangle Stitches for Quilters and Fabric Artists takes the concepts, theory and method of Zentangle and transfers them into quilting patterns and projects.
You will learn how to create tangle patterns on paper and then how to create the same patterns in thread, the key difference being that Zentangle patterns on paper are "one stroke at a time" while quilting patterns are most efficiently achieved in one continuous line.
Zentangle-inspired quilting projects include materials, how to mark and prepare fabric, tricks and tools. The projects can be achieved on either a domestic (conventional sit-down) sewing machine or longarm quilting machine."
Paperback: 144 pages
Publisher: Creative Publishing international (July 1, 2014)
Language: English
List Price: $24.99
Amazon is currently offering the book at $17.09 and as always, offers their Pre-order Price Guarantee. If the price goes down, you will pay the lower price. and when you pre-order you are among the first to receive the publication when it's released.
If you are outside the USA and Amazon isn't convenient or available to you, you can also find Jane's book available here for pre-order from Book Depository. They are currently offering the book at a 15% pre-order savings and always have free shipping worldwide.
Congratulations, Jane! I'm really looking forward to seeing this book, the tasty cover alone is a great enticement.