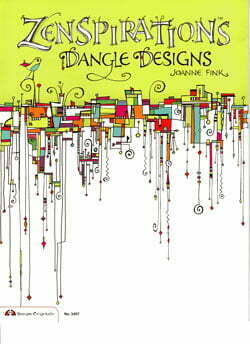 So many of us fell in love with Joanne Fink's Zenspirations – Letters and Patterning techniques and watching her videos demonstrating them.
Well now you can enjoy even more of her whimsical drawing ideas in her new title, Zenspirations Dangle Designs, available now and shipping from Amazon. Joanne's first book contained one dangle design and her new title expands on the theme, explaining in detail how to draw dangles.
From the publisher Design Originals, "Zenspirations Dangle Designs are unique patterns that add interest and texture to any design. Gifted calligrapher and designer Joanne Fink share her fun and relaxing techniques for adding dangle patterns to your drawings.
Joanne demystifies the patterning process and shows how simple it is to create richly textures dangles by breaking down the design into component parts. Use dangles to decorate scrapbook pages, album covers, wall décor and more."
Zenspirations Dangle Designs is a 16-page booklet retailing at $8.99, available on Amazon for $6.67.
Zenspirations Dangle Designs isn't Zentangle but I know you'll enjoy Joanne's latest addition to expanding your creative drawing techniques.
For more about Zenspirations Dangle Designs, see TIPS & TOOLS > RELATED BOOKS > ZENSPIRATIONS DANGLE DESIGNS
More "Related Books" for your creativity library