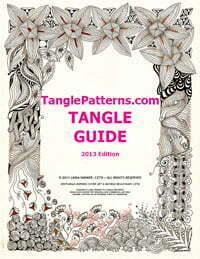 I'm so DELIGHTED to announce that the 2013 Edition of my TanglePatterns.com TANGLE GUIDE is now available! Woohoo!!!!
Completely revised, the TanglePatterns.com TANGLE GUIDE, 2013 Edition includes all the tangles on the site from May 2010 through December 31, 2012 – now almost 500.
This is a 23-page interactive e-Book where the tangle images are hotlinked to their post on this site.
The beautiful Zentangle®-inspired cover art is by Australian artist and CZT, Michele Beauchamp. Visit Michele's Etsy shop where you can purchase one of her exquisite Shelly Beauch Originals and see her blog for more delicious eye candy. Thanks so much for adding your unique touch to this edition, Michele.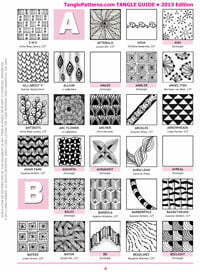 Everyone who qualified should have received my email with their own link to download the file.
If you financially contributed a minimum of $12 since November 1st to support the site you should have received your individual email by today (01/11/2013) containing a secure link to download the 2013 Edition of the eBook. Please note: this does not include those who chose the option of getting the 2012 Edition at that time.
Unless I received different instructions, I sent your email to the address you used with your PayPal transaction. Check your PayPal email inbox and your junk folder if you have not seen it yet.
Your personalized link to download the file expires 3 days after the email was sent, so please do check your inboxes and get your download as soon as possible.
New to the site and want to get a copy of my TanglePatterns.com TANGLE GUIDE, 2013 Edition?
Find out how to support the sustainability of TanglePatterns.com and qualify to get your copy by visiting the SUPPORT TANGLEPATTERNS tab on the top menu bar.
Thanks, everyone! Creating my TANGLE GUIDE was a labor of love for me and it was a lot of fun reviewing all the new tangles added in 2012. I hope you enjoy using this handy resource and will encourage your tangling friends to get their own copy.
Cheers!
PS – For those who've inquired, I plan to make my 2012 Edition available as a download from my TanglePatterns Store. But right now I need to catch up on some much needed sleep, so please give me a day or two and then check back. I should have it done by Monday. ZZZzzzzzzzzzzzzzz …
UPDATE: I've added a STORE >EBOOKS page where the 2012 Edition is also available for download.