Most of you are familiar with Interweave through their many magazines and electronic publications: Artist Daily, Beading Daily, Cloth Paper Scissors, Crochet Me, Jewelry Making Daily, Knitting Daily, Quilting Daily, Sew Daily, Spinning Daily, and Weaving Today, and their online communities.
On Thursday, Interweave released a free e-Book, Know Your Rights: Copyright 101 for Artists and Crafters, in recognition of World Intellectual Property Day. Here is what they have to say about the e-Book, with links to their free download.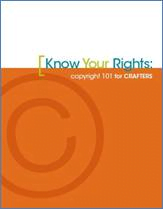 "April 26th was World Intellectual Property Day, and Interweave celebrated the day along with the U.S. Copyright Office, American Chamber of Commerce, World Intellectual Property Organization (WIPO), and others around the world to give credit to the talented writers, designers, artists, photographers, and innovators who work with us to share with readers and customers their products and ideas.
To mark the occasion, Interweave released a new FREE eBook for artists and crafters, Know Your Rights: Copyright 101, to raise awareness for the issues surrounding copyright and the problems with copyright infringement that are currently impacting our industry.
Of course, we don't need a special day to talk about copyright — this is such an important issue and we need to raise awareness about copyright so designers and artists can continue to benefit and profit from their creations.
The 10-page eBook is available at the links below.
Update January 2019: the links to these have mostly become unusable so I've removed them. There are 2 left you can still access. As I originally noted, the content is the same in each version, only the cover is tailored to each craft.
Know Your Rights: Copyright 101 for Artists
Know Your Rights: Copyright 101 for Knitters
Know Your Rights: Copyright 101 for Crocheters
Know Your Rights: Copyright 101 for Spinners
Know Your Rights: Copyright 101 for Weavers
Know Your Rights: Copyright 101 for Beaders
Know Your Rights: Copyright 101 for Jewelry Artists
Know Your Rights: Copyright 101 for Sewists
Know Your Rights: Copyright 101 for Art Quilters
Know Your Rights: Copyright 101 for Mixed Media Artists
"Most people think of pirated movies or music when they hear about copyright violations," says Eunny Jang, editor of Interweave Knits magazine. "But we answer questions about copyright for crafters, artists, designers, and authors every day—copyright and other intellectual property issues are a big deal in the DIY marketplace, where the 'I can do that!' spirit and respect for original, independent design and authorship need to coexist peacefully."
Questions around copyright can range from simple queries, like 'Can I make a copy of a pattern?' (Answer: For your own use, yes; to give to a friend, no) to more complex issues, like 'How can I be inspired by other artists without infringing on their intellectual property rights?' (Answer: By executing your vision independently, and asking permission where necessary).
"Ultimately, copyright is about protecting the creative process, ensuring that the creator of a work can benefit from that work," adds Jang. "Our goal at Interweave is to educate our consumers about what copyright is, and why it matters—and to give authors, artists, and designers everywhere the tools they need to protect their own rights so they can continue to create new works and share them with the public."
* * *
This is a very important issue, be sure to download your copy of this free book!
BTW – You will be asked to sign up for their newsletters if you don't get them already. But you can always unsubscribe immediately if you do not wish to get them. It's a small price to pay for a very informative free book.