Brand New! "Mandala meets Zentangle® in a harmonious union that will positively inspire you to put pen to paper."
CZTs first learned about these wonderful new Zendala Sets from Zentangle product manager Molly Hollibaugh at CZT#7 in October 2011 and we've been waiting with great anticipation for their arrival.
They are now ready for you to purchase and Zendala Sets are only available to the public through CZTs (like me!) for the next two months.
Pre-order today from my TanglePatterns Store and your Zendala Set ships next week the minute my first inventory arrives!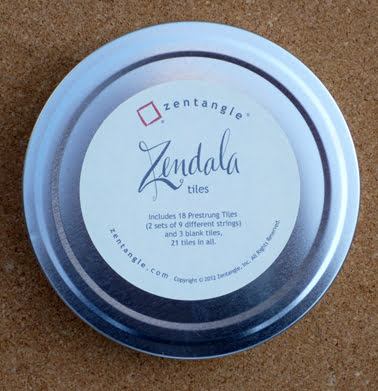 Each set comes in a special round tin about the size of a CD – perfect for taking your Zendalas (and a few regular tiles) with you anywhere you go!
21 tiles – 18 are beautifully pre-strung with inspiring strings: 2 sets of 9 with strings, and 3 blanks
Zendala tiles are about 4-5/8″ (117mm) diameter. They are die cut with Zentangle's familiar deckle edge and use the same paper as the square white tiles.
retail price for a Zendala Set is $24.95
USPS Priority Mail shipping is $5.50 (Canadian and other International orders vary)
For more information, examples of the pre-strung tiles, some wonderful completed Zendalas by Rick Roberts and Maria Thomas, and to order, please visit this page in the TanglePatterns.com Store.