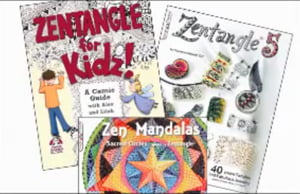 Suzanne McNeill has been busy at her publishing company, Design Originals (now part of Fox Publishing), and today at the Craft & Hobbies Association (CHA) Summer Conference and Trade Show in Rosemont, IL, she is introducing three fun new Zentangle® books.
Zentangle for Kidz!, by CZT® Sandy Steen Bartholomew. This is a comic book guide with Sandy's cartoon illustrations of her two children doing tangles. I predict this is going to be another Zentangle classic!
Zen Mandalas, by CZT® Suzanne McNeill with art by CZTs Carole Ohl and Margaret Bremner – drawing Mandalas inspired by Zentangle®.
Zentangle 5, by CZT® Suzanne McNeill with contributions from CZTs. This one has 40 more tangles, lots of jewelry inspired by Zentangle®, clay, resin, bottle caps, tags and more.
Congrats, Gals!
As soon as these are available for purchase (soon) I'll let you know and I'll be posting my reviews.
Stay tuned …

Related Links: