Just in time for summer travels, here's a great tip for keeping your Zentangle® tiles clean and handy in your pocket or bag for any time when you're on the go.
All you need is one or two of the old plastic diskette storage cases – they're the perfect 3.5-inch size for protecting the official tiles. If you can find a few of them, you can carry completed tiles in them until you return home.
We happened to have some nice colored Belkin cases my hubby dug out of our diskette archive for me but the standard clear plastic ones work just as well. These hold about a dozen tiles, plus the Legend from the official kit.
A view of the plastic storage case, opened.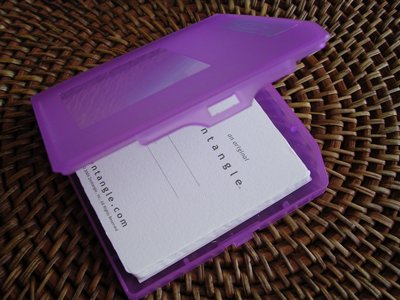 Stick the case inside a Ziploc® baggie with your Sakura Micron pens, soft lead pencil (and blending stump if you use one), and you're good to go!
Got any tips for traveling with your Zentangle® supplies you'd like to share?
PS – Speaking about travels, Happy Canada Day (July 1st) to all our friends and rellies due North, and Happy 4th to everybody here in the USA! Robert and I celebrate both 🙂 Safe travels, good eats, and fun times y'all.