More skills for your drawing repertoire! Guest Contributor Sandra Strait goes above and beyond with this highly detailed drawing techniques tutorial on how to make an object appear semi-transparent. She illustrates two versions, one using color and one in black and white.
Semi-Transparency
Afraid to use color in your Zentangle-inspired art? I often see comments to that effect. Well, this is one example where color is easier. When implying semi-transparency, contrast is key, and color can help.
That said, it's fun to know how to do semi-transparency without color, as well, so I'm showing it both ways.
I normally use pen for this, but I wanted a simpler method, and since many of you use those little golf pencils, I'm going to show you how to use them (but any soft lead pencil will do) for bubbles.
You will also need an eraser. I know. No mistakes in Zentangle®. In this case, you will be drawing with the eraser. None of those pink erasers or pencil tips, though.
I'm showing you the technique in both color and B&W, and doing it side by side so you can see that the method is pretty much the same.
I've chosen a bubble with a Knightsbridge background for my tutorial. Knightsbridge is a powerful tangle, but so easy to do, and hey! Bubbles are always fun! To keep things easy, I'm advising where to put the highlights, but you are free to put them wherever you like.
The Tools
Black Ink pen – I used a .01 micron. You might also want a thicker nib pen for filling in the Knightsbridge squares.
Soft lead pencil. One of those golf pencils works fine.
White pen or ink. I used a Sharpie Poster-Paint Marker. Gelly Rolls are good. Elmer's White Acrylic would be good. Use whatever will dry opaque.
Paper stump (tortillon) or something to smooth your pencil shading. A finger will do as a last resort, lol!
Eraser. I used a kneadable eraser. A gum or soft plastic eraser will do. NO pencil tips.
Optional:
A sheet of scrap paper to place under your hand to prevent smudges. Pencil is messy.
Pink, Blue, Yellow — if you are going to use color. I used Letraset ProMarkers, but pens, color pencils, sharpies—you choose the media. Pastel colors will be the easiest to work with.
Step 1: Draw the Bubble
Draw a circle. Don't stress about the shape. The best bubbles are those big wobbly things, right? Don't worry if your lines don't meet. I'll tell you how to fix that later.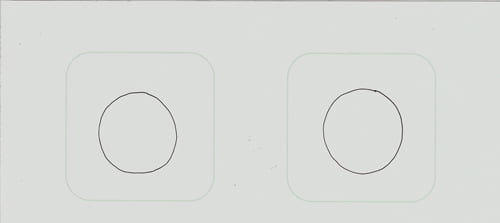 Step 2: Start the Shading
A bubble is darkest in the center, so we start there. Leave a white ring around the bubble.
Color
Use blue to color a solid circle in the center.
B&W
Using the side of the pencil lead, shade a light circle in the center. It doesn't have to be solid. Put the scrap paper under your hand so you don't mix the lead with the oils in your hand, or track it across the page.

Step 3: Add the Highlights
We'll be working around the highlights, so let's add them now. Notice that this is very similar to what we did when drawing a translucent object.
Color
Use the white pen/ink to draw a roughly bean-shaped highlight in upper right. Draw a bean-shape about twice the size in lower left of the bubble.
B&W
Erase a roughly bean-shaped highlight in upper right. Erase a bean-shape about twice the size in lower left of the bubble.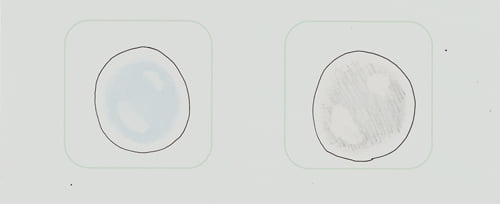 Step 4: Darken the Center
We continue to add shape. The outside of your color or pencil shading should follow the outline of the bubble. Work around the highlights so they stand out.
| | |
| --- | --- |
| Color Add yellow on the left – think of a side view of the man in the moon. Add pink to upper side of the bubble. It should be about 2/3 the size of the yellow (don't worry about exact size). Add more blue in the center, overlapping slightly with the yellow & pink. Add blue to a few places to break up the white ring. | B&W Smooth the pencil shading with your paper stump (or whatever you are using).  Think of a distorted H or I-beam. Smooth out as much of the pencil lines as you can, but it's okay to leave some. Still using the stump, extend the shading so it touches the bubble outline in a few places, to break up the white ring. |

Step 5: Add the Background
Add the Knightsbridge tangle in the background. Bring the lines right up to the bubble outline, but don't go inside.

Step 6: Add the Inside Grid
There are a few tricks to emphasize the bubble's shape. What you don't do is as important as what you do do (hmmmm. That doesn't sound right does it?)
Here are the don'ts.
Don't let the lines of the inside grid meet the outline of the bubble.
Don't draw through the highlights.
Don't align the lines inside the bubble with lines outside the bubble.
The Do's
Do curve the lines slightly, because the bubble is round.
Do have fun. Close is good enough!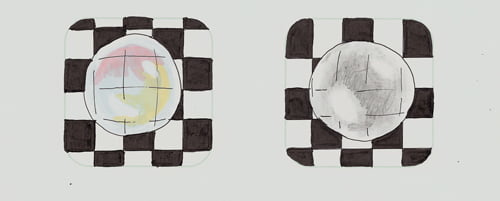 Step 7: Fill in the Inside Grid
Here's where you see that color is easier. Use your pencil and shade each square. Keep most of the white ring around the circle.

Step 8: Erase and/or Re-pencil
You may need to play around a bit, but don't get stuck. Stay as light as the bubble, lest you burst it!
| | |
| --- | --- |
| Color With a light circular motion, use the eraser on the squares to lighten and buff. | B&W With a light circular motion, use the eraser on the squares to lighten and buff the squares. If needed, erase the highlights further for contrast, or you may want to darken the shading around the highlights. Use your pen to darken the grid lines if needed. |

Step 9: Finishing touches
A bubble's outline is seldom solid, so put a touch of white ink along the outline. Do this on a white square so the line disappears. I know sometimes gel pens get muddy, but that's okay. Even if you just lighten it, it helps.
If the lines of your circle didn't meet when you drew it, use the white pen to obscure that. It if really didn't meet, then shade with pencil and smooth it.
The last step is to shade around the bottom and left side of the circle to help 'lift' from the background.
Drawing something semi-transparent is pretty complicated for tangling. But it's fun, and tends to impress the heck out of people. It gets easier with practice, so if you want a show stopper in your repertoire, semi-transparency is a good one.

Bubbles in the Knitting Basket by Sandra Strait
* * *
Thanks so much for the incredible amount of work you put into teaching us this great technique, Sandra!
If you find TanglePatterns a source of inspiration and helpful resources, please consider supporting the site's sustainability by visiting the SUPPORT TANGLEPATTERNS page on the top menu for details. Your encouragement is GREATLY appreciated!
Related Links:
Check out the other Guest Contributor tutorials on TanglePatterns by visiting the TUTORIALS link in the pink alphabetic listing at the top of any page
.oOo.

Enhance your Zentangle experience while supporting TanglePatterns:

CURRENT EDITION!

TanglePatterns.com TANGLE GUIDE, 2023 Edition

The 12th Edition of the TanglePatterns.com TANGLE GUIDE is an instant-download 103-page (50 MB) interactive digital eBook/PDF containing almost 1,900 tangles on the site from May 2010 through December 31, 2022. It's a great resource and a must-have digital tool for using the site. Visit the STORE > E-BOOKS page and help keep TanglePatterns.com online by getting your copy now!

"Linda, Thank you! I was relying on too few and getting stuck after 3 years of daily working with Zentangle. This has inspired me to 'begin again' with renewed excitement." ~ Barbara R.

See the BOOK REVIEWS page for more details on its features and view a sample page. Note: this is a digital product you download immediately when you place your order, nothing will be physically mailed to you.
GIFT ORDERS FOR ANOTHER PERSON: To give the TANGLE GUIDE as a gift, visit this page to place your gift order.
If you're new to Zentangle® and tangling, my TanglePatterns.com BEGINNER'S GUIDE TO ZENTANGLE is just what you need to get started. Also available en Français and en Español.

---

This is the only Zentangle book you'll ever need: the fabulous Zentangle PRIMER Vol 1. It's your CZT-in-a-book by the founders of Zentangle®. Visit the STORE tab on the top menu bar or click on the image. For more about the content and to read the rave reviews, visit the BOOK REVIEWS tab.
NEW! Now available in KINDLE format for $9.99. Spanish Edition here. Japanese Edition here.
"Absolutely the best Zentangle Book yet! As an accomplished artist I used to think I did not need instruction on this art form. How wrong I was! My tangling improved by leaps and bounds after reading this book. If you think you have Zentangle down then you need this book more than ever!" ~ Kris H

---

.oOo.