Xeni is a tangle pattern from Jacqueline Janssen of Holland, and it's her first on the site.
"I live in The Netherlands in a town called Alkmaar, 25 miles north of Amsterdam."
Jacqueline explains, "Xeni is based on the letter X that I had to practice in school when I was young. You can see the example in the picture below."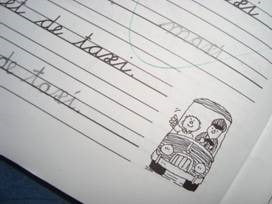 Xeni makes a great border tangle and you can use the String for a guideline if that appeals to you, or you can just have it meander freely around the tile.
Jacqueline illustrates the steps for drawing her tangle below and shows several ways to embellish Xeni to create some variations.
Check out the tag jacquelinej for more of Jacqueline's patterns on TanglePatterns.com.
---
eBooks available from TanglePatterns.com
TanglePatterns.com TANGLE GUIDE, 2014 Edition

The current Edition of my TANGLE GUIDE. This eBook contains all the tangles on the site from May 2010 through December 31, 2013.
Visit the BOOK REVIEWS page for more information on the new features and to see a sample page.
Visit the STORE > E-BOOKS page for more information on this and the TanglePatterns.com BEGINNER'S GUIDE to Zentangle® (also available in Français and Español) and support TanglePatterns.com by getting your copy now.
---
You might also like: