The waiting is over, Gentle Readers.
Need a Valentine gift for someone special (yourself)? Treat them and yourself to the latest and greatest additions to our Zentangle® library!
Yoga for Your Brain: a Zentangle Workout
, Sandy Steen Bartholomew's sequel to her much loved Totally Tangled
, is now available for pre-order on Amazon and will begin shipping very soon.
"This much anticipated sequel to Totally Tangled is just as tangled. Inside, the pages are jam-packed with Zentangle ideas, tips, projects and more than 60 new tangles. Zentangle is the perfect exercise to keep that big muscle inside your skull flexible."
Sandy notes that her latest book is not geared for newbies so if you're new to Zentangle® we recommend you start with Totally Tangled
. Why not order both?
And if that news isn't amazing enough, here comes more.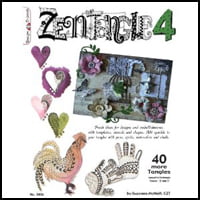 Suzanne McNeill has just published her latest, Zentangle 4
, and it too is available for pre-order and shipping soon.
"Learn new ways to jazz up cards, scrapbook pages, art journals, and anything else you can lay your hands on. It's all fun so get inspired and tangle something! Learn to color with chalks, watercolors, pencils and pens; add bling with glitter, jewels, and sparkly inks." The cover shows the book contains 40 more tangles!
For detailed Book Reviews of all the available books about Zentangle®, visit the BOOK REVIEWWS tab on the menu bar at the top of the page.
For Your Zentangle Library
Visit the BOOK REVIEWS tab at the top of the page for details on any of these Zentangle® books. If you do not have access to Amazon, you can also find these on the Book Depository website and they always ship free, worldwide! Simply click this image: