Cleveland-area tangler Judy Okawa is back today with another great tangle. Judy recently shared her Pach tangle with us.
She writes,

"The idea came from an old, but interesting book on tessellations by John Willson (1983), which I came across at a used book store (hence the name 'Tessell') –
The same simple pattern is used in each grid, but it is rotated in alternate grids.  (For me, it helped to turn my tile for the rotated ones – )  
Then there are lots of possibilities for filling in the resulting shapes….  
It can be used as a border, or to fill a larger space."
I located John Willson's Mosaic and Tessellated Patterns: How to Create Them (Dover publication) and this is his introduction, "What is a tessellation?":
"A Roman mosaic consisted of many small stones which were laid edge to edge to cover a surface, such as a wall or a floor. These tiles were called tesserae, and the term tessellation is now used for any arrangement of shapes that completely covers a surface. This technique of space-filling can be seen in paved or parquet flooring, in ceramic tiling and in stained-glass windows. Tessellations even occur naturally on some crystal surfaces and in many cellular structures such as honeycombs. Tessellations is a form of design which as been used for thousands of years. … These patterns have inspired artists and designers throughout the centuries."
Naturally there's much more about tessellations on Wikipedia, a small part of which explains and notes M.C. Escher's famous tessellations "shaped like animals and other natural objects":
"Tessellation or tiling in two dimensions is a topic in geometry that studies how shapes, known as tiles, can be arranged to fill a plane without any gaps, according to a given set of rules. These rules can be varied. Common ones are that there must be no gaps between tiles, and that no corner of one tile can lie along the edge of another. The tessellations created by bonded brickwork do not obey this rule. Among those that do, a regular tessellation has both identical regular tiles and identical regular corners or vertices, having the same angle between adjacent edges for every tile. There are only three shapes that can form such regular tessellations: the equilateral triangle, square, and regular hexagon. Any one of these three shapes can be duplicated infinitely to fill a plane with no gaps.
Many other types of tessellation are possible under different constraints. For example, there are eight types of semi-regular tessellation, made with more than one kind of regular polygon but still having the same arrangement of polygons at every corner. Irregular tessellations can also be made from other shapes such as pentagons, polyominoes and in fact almost any kind of geometric shape. The artist M. C. Escher is famous for making tessellations with irregular interlocking tiles, shaped like animals and other natural objects. If suitable contrasting colours are chosen for the tiles of differing shape, striking patterns are formed, and these can be used to decorate physical surfaces such as church floors."
For those interested in delving deeper into the tessellation subject there's a lot of research and creative potential there and by doing a Google search. Rick has also written about them quite some time ago here on the Zentangle® blog.
As you'll see, Tessell could really be another type of grid (reticula) built on a dot grid. Judy show several ways to fill in the grid's shapes with different end results. For my example I used Judy's second example in the box marked Step 6. (She also shows this variation in a simple monotangle below.) A touch of shading gives this version an "over-under" woven appearance.
Judy illustrates the step-by-step instructions for drawing Tessell below and gives several examples of ways to fill in the Tessell shapes. Reminds me of heraldry.
In this pretty monotangle Zentangle® tile Judy shows what Tessell looks like when done at an angle. Remembering always there's no right side up in Zentangle!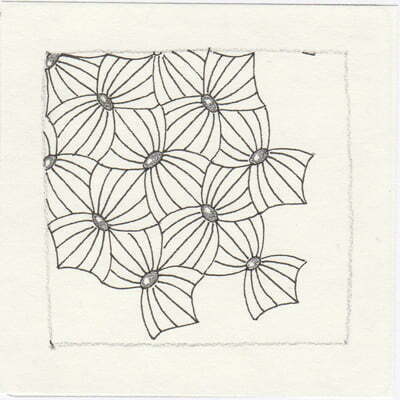 As you enjoy any of the tangles on the site, please do leave a comment of thanks and encouragement to show the artists you appreciate them for sharing their creativity to inspire yours.
Check out the tag judyo for more of Judy's tangles on TanglePatterns.com.
.oOo.

Enhance your Zentangle experience while supporting TanglePatterns:

BRAND NEW!

TanglePatterns.com TANGLE GUIDE, 2023 Edition

The 12th Edition of the TanglePatterns.com TANGLE GUIDE is an instant-download 103-page (50 MB) interactive digital eBook/PDF containing almost 1,900 tangles on the site from May 2010 through December 31, 2022. It's a great resource and a must-have digital tool for using the site. Visit the STORE > E-BOOKS page and help keep TanglePatterns.com online by getting your copy now!

"Linda, Thank you! I was relying on too few and getting stuck after 3 years of daily working with Zentangle. This has inspired me to 'begin again' with renewed excitement." ~ Barbara R.

See the BOOK REVIEWS page for more details on its features and view a sample page. Note: this is a digital product you download immediately when you place your order, nothing will be physically mailed to you.
GIFT ORDERS FOR ANOTHER PERSON: To give the TANGLE GUIDE as a gift, visit this page to place your gift order.
If you're new to Zentangle® and tangling, my TanglePatterns.com BEGINNER'S GUIDE TO ZENTANGLE is just what you need to get started. Also available en Français and en Español.

---

This is the only Zentangle book you'll ever need: the fabulous Zentangle PRIMER Vol 1. It's your CZT-in-a-book by the founders of Zentangle®. Visit the STORE tab on the top menu bar or click on the image. For more about the content and to read the rave reviews, visit the BOOK REVIEWS tab.
NEW! Now available in KINDLE format for $9.99. Spanish Edition here. Japanese Edition here.
"Absolutely the best Zentangle Book yet! As an accomplished artist I used to think I did not need instruction on this art form. How wrong I was! My tangling improved by leaps and bounds after reading this book. If you think you have Zentangle down then you need this book more than ever!" ~ Kris H

---

.oOo.