Gotcha! Today's lovely tangle is from Belgian CZT Karin Godyns, and it's her first on the site. Karin is from Waregem in "the Dutch speaking part of Belgium in between the cost side and Ghent."
Gotcha is a very easy tangle to draw with such a nice polished result that almost has a Celtic feel to it.
As with almost all grid-based tangles, Gotcha also makes an interesting ribbon or border tangle.
Karin tells us how she become involved in Zentangle® and how Gotcha came about:
"I accidently discovered Zentangle® beginning of 2014 on the internet while I was looking for a course in Hand Lettering. I never made it to the Hand Lettering course, instead I followed an Introduction Workshop in June 2014 with another Belgian CZT Jella Verelst. One year later, in June 2015 I made it to Providence USA and had the wonderful experience of becoming a CZT. Ever since the journey has been magical.
Before Zentangle I used to tell people that when it came to creativity the universe must have forgotten to add those qualities during my creation :o) until somebody told me to start working with the positive affirmation: I am a creative being. Well, look where it brought me! Zentangle has changed my life. It keeps my thoughts positive and brings me peace and confidence. It makes me smile and brings me happiness. I am grateful for the experience.
About the tangle Gotcha: I remember that I was thinking: 'I am ready to discover my own tangle'. So during the same day I was playing with one of my favourite tangles Sprigs from Michele Beauchamp when Gotcha naturally originated. All of a sudden it was there. I was over the moon with this. My own tangle, imagine that! How wonderful.
Gotcha is an easy, repetitive pattern that can be used as a border or in a sort of natural grid. Have fun with it!"
To my mind, Gotcha is in a family of tangles related to the technique used in the several of the Zentangle-original tangles like Hurry and Betweed for example, where strokes are built out by alternating around the initial starting point. All with very different and unique results.
Here Karin illustrates the step-by-step instructions for drawing Gotcha and features it used as ribbons weaving through her Zentangle, one with Zentangle-y orbs added which complement the orbs with rounding she's added to Florz.
And here's Gotcha in a simple monotangle demonstrating how just a simple touch of shading brings out the look of dimension to the tangle.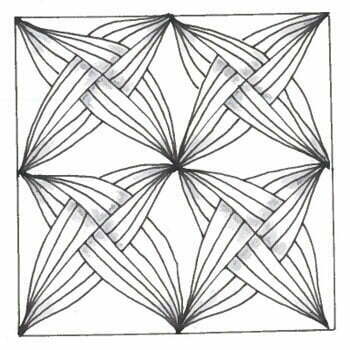 Check out the tag karing for more of Karin's tangles on TanglePatterns.com.
Related Links
Looking for tangles by Artist or Type? For details visit the ABOUT > HOW TO FIND TANGLES BY ARTIST OR TYPE page on the top menu bar of any page on the site.
What is a Zentangle? — if you are new to the Zentangle Method, start here for the fundamentals.
Zentangle terminology — a glossary of terms used in this art form.
How to use the site — an excellent free video tutorial showing how to use the site as well as pointing out lots of useful features you might have missed.
Linda's List of Zentangle-Original Patterns — here is the complete list of original tangles (aka "official tangles") created and introduced by founders Rick Roberts and Maria Thomas, including those not published online. If you are new to the Zentangle Method I highly recommend learning a few of the published Zentangle classics first.
"A Zentangle has no up or down and is not a picture of something, so you have no worries about whether you can draw a hand, or a duck. You always succeed in creating a Zentangle." Thus patterns that are drawings of a recognizable naturalistic or actual object, figure, or scene, are not tangles. A pattern is not always a tangle — here's what makes a tangle. TIP: tangles never start with pencil planning.
For lots of great FREE tutorials on TanglePatterns, click on the TUTORIALS link in the pink alphabetic menu bar below the tangle images at the top of any page.
Strings! Have we got STRINGS! Click on the STRINGS link in the pink alphabetic menu bar below the tangle images at the top of any page for 250 different (free) Zentangle-starters. More than enough for any lifetime!
Never miss a tangle! FREE eMAIL NEWSLETTER - visit the SUBSCRIBE page on the top menu bar of any page on the site and sign up to get notices delivered free to your inbox.
Michele Beauchamp's Today I will Tangle is back in stock!
For those of you who missed out on the first printing, Michele has just let me know that her second printing is back in stock and she's ready to pack and post.
You can read more about it and get the ordering links here.
.oOo.

Enhance your Zentangle experience while supporting TanglePatterns:

CURRENT EDITION!

TanglePatterns.com TANGLE GUIDE, 2023 Edition

The 12th Edition of the TanglePatterns.com TANGLE GUIDE is an instant-download 103-page (50 MB) interactive digital eBook/PDF containing almost 1,900 tangles on the site from May 2010 through December 31, 2022. It's a great resource and a must-have digital tool for using the site. Visit the STORE > E-BOOKS page and help keep TanglePatterns.com online by getting your copy now!

"Linda, Thank you! I was relying on too few and getting stuck after 3 years of daily working with Zentangle. This has inspired me to 'begin again' with renewed excitement." ~ Barbara R.

See the BOOK REVIEWS page for more details on its features and view a sample page. Note: this is a digital product you download immediately when you place your order, nothing will be physically mailed to you.
GIFT ORDERS FOR ANOTHER PERSON: To give the TANGLE GUIDE as a gift, visit this page to place your gift order.
If you're new to Zentangle® and tangling, my TanglePatterns.com BEGINNER'S GUIDE TO ZENTANGLE is just what you need to get started. Also available en Français and en Español.

---

This is the only Zentangle book you'll ever need: the fabulous Zentangle PRIMER Vol 1. It's your CZT-in-a-book by the founders of Zentangle®. Visit the STORE tab on the top menu bar or click on the image. For more about the content and to read the rave reviews, visit the BOOK REVIEWS tab.
NEW! Now available in KINDLE format for $9.99. Spanish Edition here. Japanese Edition here.
"Absolutely the best Zentangle Book yet! As an accomplished artist I used to think I did not need instruction on this art form. How wrong I was! My tangling improved by leaps and bounds after reading this book. If you think you have Zentangle down then you need this book more than ever!" ~ Kris H

---

.oOo.
Save