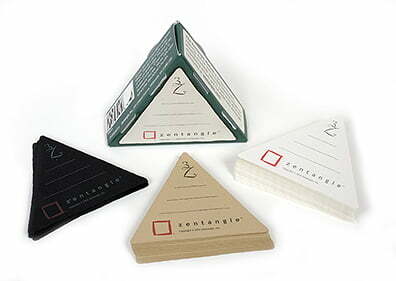 Pack of 55 triangular Zentangle® tiles – $29.00
The Zentangle 3Z tile is a 3.5″ x 3.5″ x 3.5″ equilateral triangle. It is die cut with a deckle edge and rounded corners like all of the other Zentangle tiles. 3Z tiles fit elegantly together in a mosaic as well as alongside the 3.5″ square White, Black and Renaissance Tan tiles for even more configuration ensembles.
"Put a border and string on these and tangle like any other tile. Mix and match colors and techniques."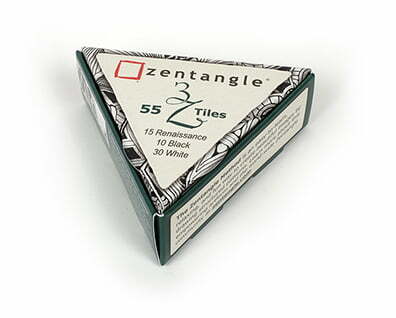 This 3Z Multi-Pack tiles has a total of 55 blank tiles. The Multi-Pack comes in a special box containing:
15 Renaissance Tan tiles
10 Black tiles and
30 White tiles.
All tiles are made from the white Fabriano Tiepolo, the black Rives BFK and the Renaissance Rives BFK of the Zentangle square tiles.
All are 100% cotton, archival and mould made paper.
Place your order now
Orders for US delivery are shipped by USPS Priority Mail. Mail orders are also accepted, please visit the ordering page below for prices including shipping and mailing details.
(Sorry, at this time TanglePatterns is not taking orders for Canada or International destinations.)
Thanks for supporting TanglePatterns with your order!