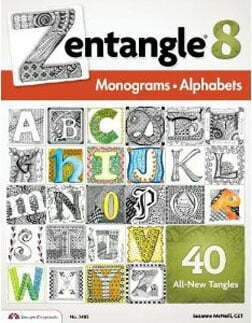 Zentangle 8 is the November 2012 title in Suzanne McNeill's series of booklets featuring a different Zentangle-inspired craft in each. Zentangle 8 focuses on Zentangle-inspired monograms and alphabets.
List $8.99
From the introduction and back cover:
"Letters are the perfect way to personalize a greeting card, stationery, or a memorable gift. Turn mundane mail into envelopes that promise something really special. Send special tangled thank-you notes and enclosure cards for showers, weddings, and baby announcements. Using the relaxing process of Zentangle, you can create unique letters with stunning details and sumptuous backgrounds – one tangle at a time."
Suzanne explains how to get started with letters. She suggests using a chunky chipboard letter, a big sticker shape, a foam letter, or a large stencil. It also has tips including some shading basics and reminders to breathe, hold your pen lightly, and be deliberate when making a stroke.
For this 20-page (including covers) publication Suzanne asked guest artists and CZTs to submit a tangled alphabet letter. (My "L" tile is included – I drew the "L" freehand, then tangled the tile.) "These letters feature a variety of styles shapes, forms, and details that range from simple to intricate. Similar to our handwriting, each person drew from the same set of instructions, but each has their own individual style." These lovely tiles are the main content of Zentangle 8.
Zentangle 8 includes 40 tangles and although they're not all new (one or two are duplicates of patterns from earlier publications given different names and Office Windows is the official tangle Knightsbridge used as a border) there are enough new ones to keep you busy while you try out some of the creative ideas illustrated here.
This is the perfect time of year to get inspirational monogram ideas from Zentangle 8 for holiday decorations, gifts and gift tags, and card-making crafts.
For Your Zentangle® Library
Visit the BOOK REVIEWS tab at the top of the page for details on any of these Zentangle® books.
If you do not have access to Amazon, you can also find these on the Book Depository website and they always ship free, worldwide! Simply click this image: