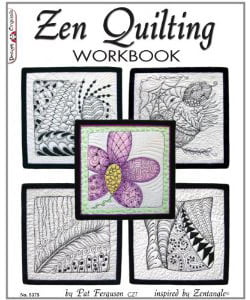 The Zen Quilting Workbook
by CZT® Pat Ferguson is another publication of CZT® Suzanne McNeill's Design Originals publishing company and this new book merges Zentangle® with free motion quilting.
Pat Ferguson brings impressive credentials to her book. In addition to being a CZT® Pat has been quilting since 1980 and teaching classes, presenting trunk shows, and machine quilting professionally since 1985.
My beautiful Mom is a talented seamstress who taught me to sew when when I was big enough to sit at her Singer. Many is the hour I've been immersed in a blissful tangle of thread and fabric and patterns. In my judgment Pat Ferguson's addition to Design Originals' line of Zentangle-inspired books is detailed enough for even novice quilters to get started and produce a wonderful creation such as Pat's own "Rain Forest", shown here.
This workbook is full of valuable information and tips, do's and don'ts, detailed with illustrations and step-by-step photos along with thorough explanations to help you complete your own Zen Quilt. There's even a gallery of student zen quilts to help inspire your imagination.
As Pat points out, "Machine quilting is not easy or relaxing but it is very rewarding. Many students will dive right into a queen size quilt and quickly become overwhelmed with the size of the project." Her Zen Quilting approach breaks down the project into smaller, more manageable sections. "Discover the bliss of stress-free quilting as you experience the relaxing, repetitive concepts of Zentangle®."
Pat explains how to set up your machine and quilting area. She reviews fabric, batting and notions and recommends brand name products to use for the best outcome. And the projects come with very detailed lists of every supply you'll need.
Divided into 9 sections with lots of illustrations and photographs to guide you, here is the breakdown:
Draw and transfer the design – the zen quilt is designed on paper first with suggestions of continuous line patterns to use for the tangles. "Pen stitching" and fills can be added for even finer detail
Design inspiration – includes 4 pages of continuous line pattern ideas and tips on how to approach them. Explains how to stabilize your fabric and transfer your Zentangle from paper to the fabric
Layer the Zen quilt – "make a quilt sandwich"
Zen stitch the quilt – how to prepare your mind and points to consider while stitching, and a page of edge and background filler suggestions
Block the quilt – how to block your quilt to make it square
Add pen stitching – "Bringing your Zen Quilt to Life" using Zentangle's traditional Sakura Micron permanent ink pens to add more detail "and drama"
Add the binding – step-by-step photos and instructions along with Pat's foolproof trimming tip
Convertible hanger – how to make a wooden display hanger Pat devised
Gallery of Zen Quilts – ideas and inspiration for your own projects, and a mini-lesson on adding color to Zen Quilts with good old Crayolas
"I chose Design Originals because their books are chock full of information. I like the whimsical style and clarity of the books and Suzanne's thorough and cheery way of conveying information," writes Pat and she certainly meets all of her own criteria in her Zen Quilting Workbook
.
Whether you're an experienced quilter or ready to learn something new, for much less than the cost of taking a workshop this is a valuable book you will be delighted to own and refer to often.
Happy Zen Quilting!
For Your Zentangle® Library
Visit the BOOK REVIEWS tab at the top of the page for details on any of these Zentangle® books. If you do not have access to Amazon, you can also find these on the Book Depository website and they always ship free, worldwide! Simply click this image:
Related Links: