Before we get to our string for this week, I'd like to take a moment to celebrate TanglePatterns.com's THIRD!!! Birthday with you. Three years ago today on May 4th, 2010, I started the site with the greeting, "Hello Zentangle® Zealots!"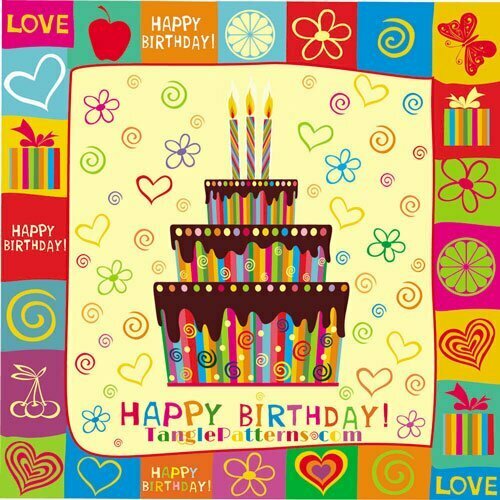 From the bottom of my heart I thank you for your love and support and encouragement over the last three years. I'm honored by all your comments and emails, I treasure every one. It's been so much fun and I look forward to many more years of Zentangle fun, learning, and inspiration as we share this wonderful Zentangle journey together. Thanks y'all!
And now back to our regularly scheduled programming …
Here's another String for your creative enjoyment and this one's from yours truly. String 051 was based on two inspirations. The first was a post on the Zentangle blog by Maria Thomas called "Line 'em Up" where she writes,
Whenever I am confronted with [difficulty in creating strings], I resort to something real simple . . . stripes! . . . lines, ribbons, pipes, moldings, borders … There is a basic simplicity of tangling within the string of a stripe and then shading on the outer edges to tie it all together. … This is also a fun exercise/challenge to do with tangles that you wouldn't immediately think of as "border" tangles.
And Maria includes wonderful examples to get your creative juices going.
The second inspiration is today's Birthday, hence three simple diagonal stripes. I was so tempted to draw candles, but I resisted the urge  … Combining these two inspirations, you get today's String 051.
Of course you know that Zentangle® strings are guidelines. You can use a string exactly as it is or adapt it to suit as your Zentangle grows. Start with the string as it's shown then, as you go, combine sections if your tangles want to, or divide a section into smaller ones. Go with the flow and enjoy.
Please help our community's String resource grow by sending me yours to share. Remember to keep them simple, Zentangle strings are not elaborate or complicated. For your convenience, below there's a link to a template to use if you'd like.
If you'd like to share your completed tiles for other to see, add them to the TanglePatterns String group on flickr (see the link below).
Lightly pencil the string on your tile and you're good to go tangling. Enjoy!
Reminders:

Important: Strings are always drawn freehand in pencil so they magically disappear into your completed Zentangle.
Use any string over and over again with different tangles.
There are so many tangles available that your Zentangles will always be different even using the same string.
Or use it with only one tangle – a monotangle.
Usually each string will have many options.
The Border (if one is given) is also a suggestion – use it, change it, or ignore it. It's your art.
And remember, in Zentangle there's no right-side-up!
Related Links
Now available from TanglePatterns.com
TanglePatterns.com STRING GUIDE, Volume 1 (String 1-50)

An eBook describing the importance of Strings in Zentangle® and compiling the first 50 strings from the site's resource. Strings are given in two formats to jump-start your Zentangle creativity: two pages contain "at-a-glance" size images of all 50 strings, followed by full-size traceable images. Additional String suggestions by several CZTs are also provided. Sure you can download the strings from the site but this saves you tons of time and as always your purchase helps keep TanglePatterns going and growing.
Visit the STORE > E-BOOKS page for more information and support TanglePatterns.com by getting your copy now!
---
You might also like: