NOTE: This page was first published in 2010. Be sure to read the community's comments below for additional ideas and more recent methods.
I'm the type of person who likes to create systems for doing things, whether it be business procedures or a household-related task like a reusable shopping list template.
So I thought I'd share how I organize my tangles and the steps for drawing them in case it's helpful for fellow Zentangle® Zealots.
To start with, I use Moleskine® squared notebooks. The paper is acid-free and nice and smooth for drawing with the Sakura Micron Pens. The squared pages provide light guidelines and these help me get more accurate proportions when I draw. Not having done any drawing before, I need all the help I can get. These notebooks are a perfect size for portability along with your Zentangle® supplies.
In the small notebook (3 1/2 " x 5 1/2) I begin by marking up the page with light pencil dots in 3 cm squares (6 boxes in each direction). This is actually quite a relaxing process in itself and can be done while "watching" television. Here's what the page looks like when the pencil dots are done:
I do several pages at a time and then connect the dots to create the boxes. I even treat this like doing a Zentangle®, making all the lines in one direction first, then turning the notebook and doing the lines in the next direction, and so on. This process conveniently gives you 6 squares for your step-by-step instructions. Some tangles need an odd number of guidelines, so for those I do a page of 7-box squares. Here's an example of the boxes ready to go: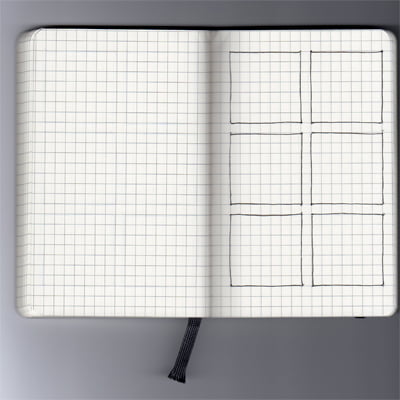 I've only use one side of each page because some tangles are quite dense with ink and there can be a little bleed-through through on the back of the page.
I leave the first couple of pages blank in the book and number the top right corner of each page. Then I can write in a Table of Contents on the blank front pages. This reference helps me find tangles quickly.
Then I draw the step-by-steps with red and black Sakura Micron pens. I often use my Zentangle pencil first to get an idea of how to place strokes correctly, then I throw all caution to the wind and let it rip with the pens. Here's an example of Sandy Bartholomew's tangle, Flutter Tile.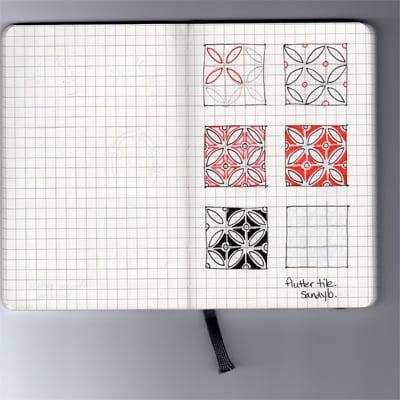 Recently I purchased the larger 5 x 8 1/4-inch size squared Moleskine®. In this one I'm creating a library of finished tangle samples and examples of variations so I can refer to it for inspiration. This size fits 15 tangles per page, so there should be lots of room for growth. Originally I used a small Moleskine® for this purpose, but it didn't take long to fill it in. Here's an example of what the small page looks like.
I invite you to share your system of organization for your tangles in the comments. Systems can always be improved and I'd love to hear what you guys have sorted out. Over to you …
BTW – Be sure to visit the DOWNLOADS tab at the top of the page for free downloadable templates to use for your tangles.
Get Your Supplies Here at Excellent Prices
If you'd like to try out my system, you can get these supplies on Amazon and they have great pricing compared to local retail outlets: