It's Friday already! We're zipping through the hot, hot month of July …
For refreshment, today we have Kaas, a "cool" grid-based tangle from Japanese CZT Emiko Kaneko. It's her first on the site and though it might look complicated, of course it's easy!
Emiko introduces herself and explains how she discovered the wonderful Zentangle® art form and became a CZT in June of 2017.
I live in the suburbs of Yokohama in Japan. It's very quiet and conveniently located in terms of public transportation so it's a good place, to go anywhere.
About my encounter with Zentangle …
I was unable to go out because of poor health and then I remembered the Zentangles that my sister-in-law had drawn a while ago. I decided to begin drawing Zentangle with her. I realized that I was in a state of meditation because I forgot all about my poor physical condition and lost all sense of time.
I was naturally smiling when I saw the finished work. I still remember with clarity that time was so much fun. And it was an amazing discovery for me.
After that I collected a lot of books and internet information about Zentangle and practiced by myself. Then I found Izumi Sato CZT's class in Japan and took part for the first time. I was able to hear about Rick and Maria and increase my knowledge about Zentangle. And I was able to be Zentangle friends with lots of people from around the world.
After that, I participated CZT Seminar #28 at Providence in USA, it was like I was in a dream. The times I spent with so many friends, that has been my treasure ever since then. And they remain in my heart.
I am grateful to discover this wonderful Zentangle, and I am very happy to draw. My world has changed wonderfully.
Emiko created Kaas when she was exploring Rick's "Impossible" triangle posted in 2017 on the Mosaic app. She writes,
I was wondering whether I could make the Impossible Triangle into a square.
I was troubled because I could not think of a good name. So I decided on "Kaas" by my favorite French singer Patricia Kaas. "Kass" has a pleasant sound.
Naturally I had to learn a little about Patricia Kaas because I had not heard of her. Wikipedia tells us:
Patricia Kaas is a French singer and actress. Her music is a mix of pop, cabaret, jazz, and chanson.
Since the appearance of her 1988 debut album, Mademoiselle chante…, Kaas has sold over 17 million records worldwide.
She had her greatest success in Germany, Switzerland, Belgium, Canada, Russia, Finland, Ukraine, and South Korea with her third album Je te dis vous.
In 2002, Kaas made her film debut in And now… Ladies and Gentlemen with Jeremy Irons. She represented France in the Eurovision Song Contest 2009 in Moscow, and finished in eighth place.
A review article, "10 years ago – What has become of Eurovision's Top 10 from 2009", updates her recent career:
Later Kaas starred in a musical show where she performed some of the most popular and successful songs of French cabaret performer and film actress Edith Piaf.
The show opened in some of the most prestigious venues in the world such as the Royal Albert Hall in London and the Carnegie Hall in New York. As part of the tour, Kaas also returned to Moscow to perform at the Operetta Theatre.
As for Kaas the tangle, as frequently happens I found that changing the sequence of the steps made it easier for me to get consistency. After laying down the initial grid in Step 1, I skipped to Step 3 and added just the outer points of the "arrows" – sort of L shapes in opposite corners of each grid square. Then I went back to Step 2, and followed from there. However you tackle it, it's an absorbing one to tangle and there's a beautiful floral meta-pattern formed. Kaas has an interesting woven appearance even if you stop in the early stages, and variations can change the end result considerably.
Emiko illustrates the step-by-step instructions for drawing Kaas below and she demonstrates a couple of suggested variations in her pretty monotangle tile.
BTW – if you're confused that my example doesn't look like Emiko's Step 6, visualize adding another column to the right (or left) on her Steps. I used Emiko's sample tile as my guide to emphasize the meta-pattern. In this image where I've tiled/repeated my example, highlighted in TanglePatterns' signature magenta 🙂 is the equivalent of Step 6. The meta-pattern can confuse our eyes and our brain.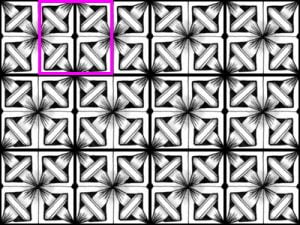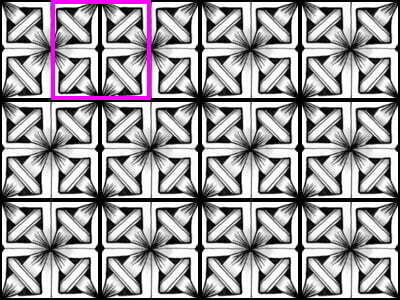 As you enjoy any of the tangles on the site, please leave a comment of thanks and encouragement to show the artists you appreciate them for sharing their creativity to inspire yours. Your comment helps motivate them to continue to share!
Check out the tag emikok for more of Emiko's tangles on TanglePatterns.com.
Enjoy your weekend, and see you back here on Monday!
Related Links
Looking for tangles by Artist or Type? For details visit the ABOUT > HOW TO FIND TANGLES BY ARTIST OR TYPE page on the top menu bar of any page on the site.
What is a Zentangle? — if you are new to the Zentangle Method, start here for the fundamentals.
Zentangle terminology — a glossary of terms used in this art form.
How to use the site — an excellent free video tutorial showing how to use the site as well as pointing out lots of useful features you might have missed.
Linda's List of Zentangle-Original Patterns — here is the complete list of original tangles (aka "official tangles") created and introduced by founders Rick Roberts and Maria Thomas, including those not published online. If you are new to the Zentangle Method I highly recommend learning a few of the published Zentangle classics first.
"A Zentangle has no up or down and is not a picture of something, so you have no worries about whether you can draw a hand, or a duck. You always succeed in creating a Zentangle." Thus patterns that are drawings of a recognizable naturalistic or actual object, figure, or scene, are not tangles. A pattern is not always a tangle — here's what makes a tangle. TIP: tangles never start with pencil planning.
For lots of great FREE tutorials on TanglePatterns, click on the TUTORIALS link in the pink alphabetic menu bar below the tangle images at the top of any page.
Strings! Have we got STRINGS! Click on the STRINGS link in the pink alphabetic menu bar below the tangle images at the top of any page for 250 different (free) Zentangle-starters. More than enough for any lifetime!
Never miss a tangle! FREE eMAIL NEWSLETTER - visit the SUBSCRIBE page on the top menu bar of any page on the site and sign up to get notices delivered free to your inbox.
.oOo.

Enhance your Zentangle experience while supporting TanglePatterns:

CURRENT EDITION!

TanglePatterns.com TANGLE GUIDE, 2023 Edition

The 12th Edition of the TanglePatterns.com TANGLE GUIDE is an instant-download 103-page (50 MB) interactive digital eBook/PDF containing almost 1,900 tangles on the site from May 2010 through December 31, 2022. It's a great resource and a must-have digital tool for using the site. Visit the STORE > E-BOOKS page and help keep TanglePatterns.com online by getting your copy now!

"Linda, Thank you! I was relying on too few and getting stuck after 3 years of daily working with Zentangle. This has inspired me to 'begin again' with renewed excitement." ~ Barbara R.

See the BOOK REVIEWS page for more details on its features and view a sample page. Note: this is a digital product you download immediately when you place your order, nothing will be physically mailed to you.
GIFT ORDERS FOR ANOTHER PERSON: To give the TANGLE GUIDE as a gift, visit this page to place your gift order.
If you're new to Zentangle® and tangling, my TanglePatterns.com BEGINNER'S GUIDE TO ZENTANGLE is just what you need to get started. Also available en Français and en Español.

---

This is the only Zentangle book you'll ever need: the fabulous Zentangle PRIMER Vol 1. It's your CZT-in-a-book by the founders of Zentangle®. Visit the STORE tab on the top menu bar or click on the image. For more about the content and to read the rave reviews, visit the BOOK REVIEWS tab.
NEW! Now available in KINDLE format for $9.99. Spanish Edition here. Japanese Edition here.
"Absolutely the best Zentangle Book yet! As an accomplished artist I used to think I did not need instruction on this art form. How wrong I was! My tangling improved by leaps and bounds after reading this book. If you think you have Zentangle down then you need this book more than ever!" ~ Kris H

---

.oOo.