Today is Thanksgiving Day in Canada and I am so excited to be sharing this special occasion with my family. Although we've lived in the USA for well over 30 years it's always great to come "home".
As you're aware, last week Robert and I made the 1,348 mile, 3-day drive from South Florida to Niagara-on-the-Lake, Ontario. [Robert drove, I provided sustenance and scintillating conversation to prevent road-weariness.] We've been having such a nice time catching up with loved ones we haven't seen for a year and absorbing the beginnings of the Fall season.
Canadians celebrate Thanksgiving with a traditional dinner on any one of the three days over the long weekend. Ours was last night and we enjoyed moist turkey with stuffing and dressing, and a mashed potato casserole all dressed up with cheese, all masterfully prepared by my youngest sister Bev. A very tasty side dish of mustard-glazed carrots was a recipe from her husband's side of the family. Pumpkin and cherry pies, with a little ice cream topping, were the finishing touches on a wonderful family dinner.
While we're visiting the Niagara Peninsula we also make sure to get our fill of treats that aren't readily available to us in Florida. High on the list are Mom's Butter tarts, and the World Famous Peameal Bacon sandwiches at the St. Lawrence Market in Toronto. Robert and I've been addicted to these breakfast sandwiches since the early 1970's before we moved from Toronto to Pittsburgh. We haven't yet made the 80-mile (130 km) drive from NOTL but are thinking about it for later in the week as "The Market" is open seven days a week. And while we're up here, we always have to get at least one fix of a Swiss Chalet chicken dinner. 🙂
This Thanksgiving weekend can't pass without noting something else I'm very grateful for — it's hard to believe but five years ago this week I had the magical experience of attending the certification seminar in Providence with my CZT#7 colleagues and all the seriously wonderful people who are Zentangle HQ. So very very much to be thankful for, and especially for YOU.
Chianti is my Thanksgiving gift for you. It's been a loooooong time since I've added a tangle to my "wine" series – Chard, Gewurtz, Rosé, Shiraz, Zin – but today is a perfect time for Chianti!
Chianti is my deconstruction of this inspiration of a very attractive wrought iron gate. Wrought iron can appear quite heavy and dense but this light airy pattern really appealed to my minimalist senses.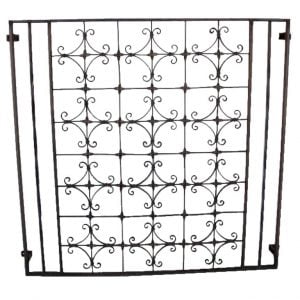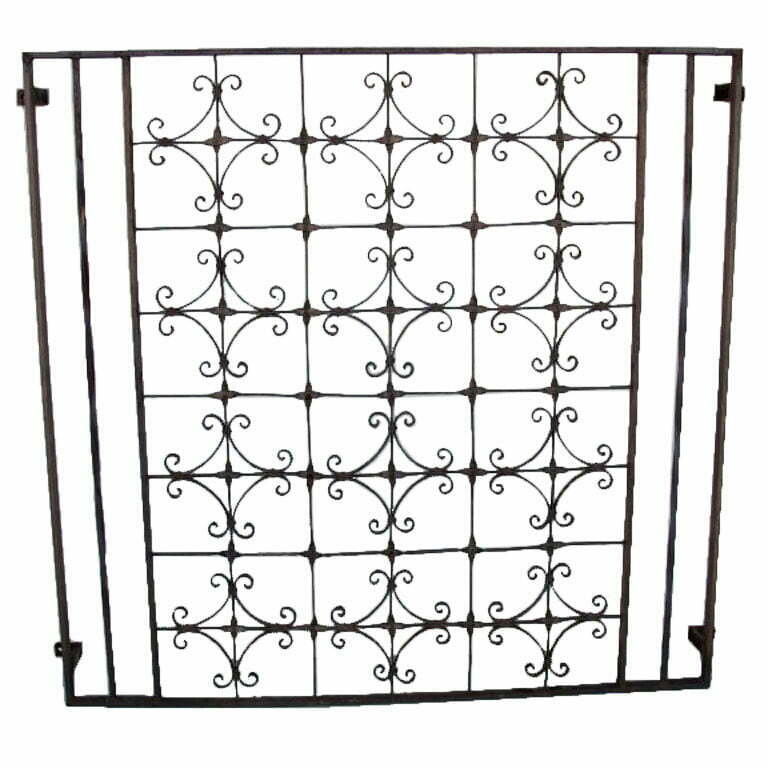 Delicate and pretty, Chianti is an easy pattern to deconstruct as well as draw.
Here are my step-by-step instructions for tangling Chianti, as distinct from, you know, drinking it. I placed the tiny orbs on the intersections of the grid first (Step 2) because depending on how large you make them, you will know how much space you're left to work with in Steps 3 and 4. You can combine 3 and 4 into one step if you prefer. I found it easier to turn my tile and do each place on the grid in the same direction.
The Renaissance Tan tile uses Chianti as shown above and a variation with offset alternate rows (top of tile, and my main example), which I think I prefer (at the moment) but each has an interesting overall effect of its own, especially when a little graphite is added. I used the Zentangle-original Knightsbridge in the center with some Maria-inspired Eke-y bits and orbs and flourishes. For my String I used the Random Generator in the left sidebar of the site and it produced String 214 from Debra Sweeting.
Cheers!!!
As you enjoy any of the tangles on the site, please do leave a comment of thanks and encouragement to show the artists you appreciate them for sharing their creativity to inspire yours.
Check out the tag lindaf for more of my tangles on TanglePatterns.com.
.oOo.

Enhance your Zentangle experience while supporting TanglePatterns:

CURRENT EDITION!

TanglePatterns.com TANGLE GUIDE, 2023 Edition

The 12th Edition of the TanglePatterns.com TANGLE GUIDE is an instant-download 103-page (50 MB) interactive digital eBook/PDF containing almost 1,900 tangles on the site from May 2010 through December 31, 2022. It's a great resource and a must-have digital tool for using the site. Visit the STORE > E-BOOKS page and help keep TanglePatterns.com online by getting your copy now!

"Linda, Thank you! I was relying on too few and getting stuck after 3 years of daily working with Zentangle. This has inspired me to 'begin again' with renewed excitement." ~ Barbara R.

See the BOOK REVIEWS page for more details on its features and view a sample page. Note: this is a digital product you download immediately when you place your order, nothing will be physically mailed to you.
GIFT ORDERS FOR ANOTHER PERSON: To give the TANGLE GUIDE as a gift, visit this page to place your gift order.
If you're new to Zentangle® and tangling, my TanglePatterns.com BEGINNER'S GUIDE TO ZENTANGLE is just what you need to get started. Also available en Français and en Español.

---

This is the only Zentangle book you'll ever need: the fabulous Zentangle PRIMER Vol 1. It's your CZT-in-a-book by the founders of Zentangle®. Visit the STORE tab on the top menu bar or click on the image. For more about the content and to read the rave reviews, visit the BOOK REVIEWS tab.
NEW! Now available in KINDLE format for $9.99. Spanish Edition here. Japanese Edition here.
"Absolutely the best Zentangle Book yet! As an accomplished artist I used to think I did not need instruction on this art form. How wrong I was! My tangling improved by leaps and bounds after reading this book. If you think you have Zentangle down then you need this book more than ever!" ~ Kris H

---

.oOo.