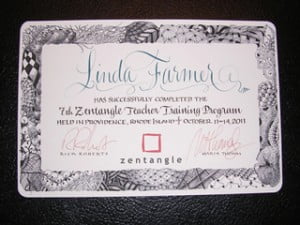 The Zentangle® method is taught by Certified Zentangle Teachers (CZTs) who have graduated from the certification seminar taught by founders Rick Roberts and Maria Thomas.
All certification seminars are held in Providence, Rhode Island (see the "I can't afford to come to Providence, RI" note below). The focus of this seminar is learning how to teach the Zentangle Method and how to run a business as a CZT. People from all over the world come to Providence to attend the training seminar.
Total Registration cost for the 4-days: $ 1,495. "This price includes all class materials, food, taxes and gratuities. Other than your transportation costs, there are no hidden or surprise fees." This is the Day Student rate, lodging at Hotel Providence is additional and very reasonable rates are available. The registration page contains full details.
In 2014 certification seminar dates are taking place:
(Note: all 2014 classes AND wait lists are full)
When seminar dates are formally announced they are added to the Zentangle.com website and the links can be found in the left sidebar under the heading "Upcoming Events".
"Important events occur at CZT seminars that can't be conveyed with words or online through video. …

Often people see Zentangle's simplicity and assume it is easy to teach. However there is so much more to our Zentangle teaching method than the many cool tangles we and others share for free. There are reasons and techniques and philosophies and principles for everything that we do. Once you learn these you can then really serve your students well and be able to answer their questions and concerns. …

We created our CZT training program so you could understand the basics and depth of Zentangle and so you could convey the full Zentangle experience to others".
This is from the FAQ page on zentangle.com:
I can't afford to come to Providence, RI. Can you give a CZT seminar in _________ ?

"We work diligently to keep our CZT seminars as inexpensive as possible, while providing the venue and materials necessary to have a wonderful experience. If we** were to travel more than a short driving distance from our home base our costs would go up significantly. It would end up costing attendees much more than if they had flown to Providence. If we would teach a seminar in say, California, the tuition would have to be many times what it is now, certainly more than it would cost someone to come to Providence from California."
**Linda's note: "we" includes all the Zentangle team members who handle the logistics of moving and setting up exhibits, supplies and teaching materials as well as administering the seminar. This staff is in addition to Rick and Maria and Molly, the teachers. As you might imagine, running a seminar of the scope and nature of the CZT training involves much more than Rick and Maria and Molly simply turning up in another part of the country.
How to become a CZT®
To learn more about how to become a Certified Zentangle Teacher, please visit this page on Zentangle.com.
Find a class near you: Certified Zentangle Teachers
"We encourage you to take a class from a Certified Zentangle Teacher (CZT). It is a special experience. Everyone on this page has been personally taught by Rick and Maria. They understand what Zentangle is about and how to teach you."
Learn more on Zentangle.com
More questions? Learn about teaching, selling your Zentangle-inspired creations, and more by visiting the zentangle.com website.