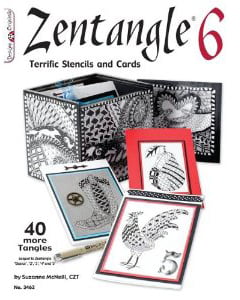 Zentangle 6, the sequel to CZT® Suzanne McNeill's series of booklets exploring Zentangle-inspired crafts, focuses on "terrific stencils and cards".
Several finished card projects are illustrated to give you some creative ideas and details included for the supplies used to make each card. There aren't any step-by-step instructions, but the detail given is sufficient for you to apply the concepts to your own projects.
Suzanne recommends Dreamweaver brass stencils as "just the right size" for embellishing with tangles and Zentangle 6 illustrates several of the stencil designs used on cards.
Suzanne also features a Walnut Hollow Card Keeper wood box she decorated with Zentangles and it can be used to store her tiles.
Paper crafters and card-makers will find inspiration for new projects in Zentangle 6, and as usual Suzanne includes more of her own tangle designs to add to your collection.
For Your Zentangle® Library
Visit the BOOK REVIEWS tab at the top of the page for details on any of these Zentangle® books. If you do not have access to Amazon, you can also find these on the Book Depository website and they always ship free, worldwide! Simply click this image: